Catawba County News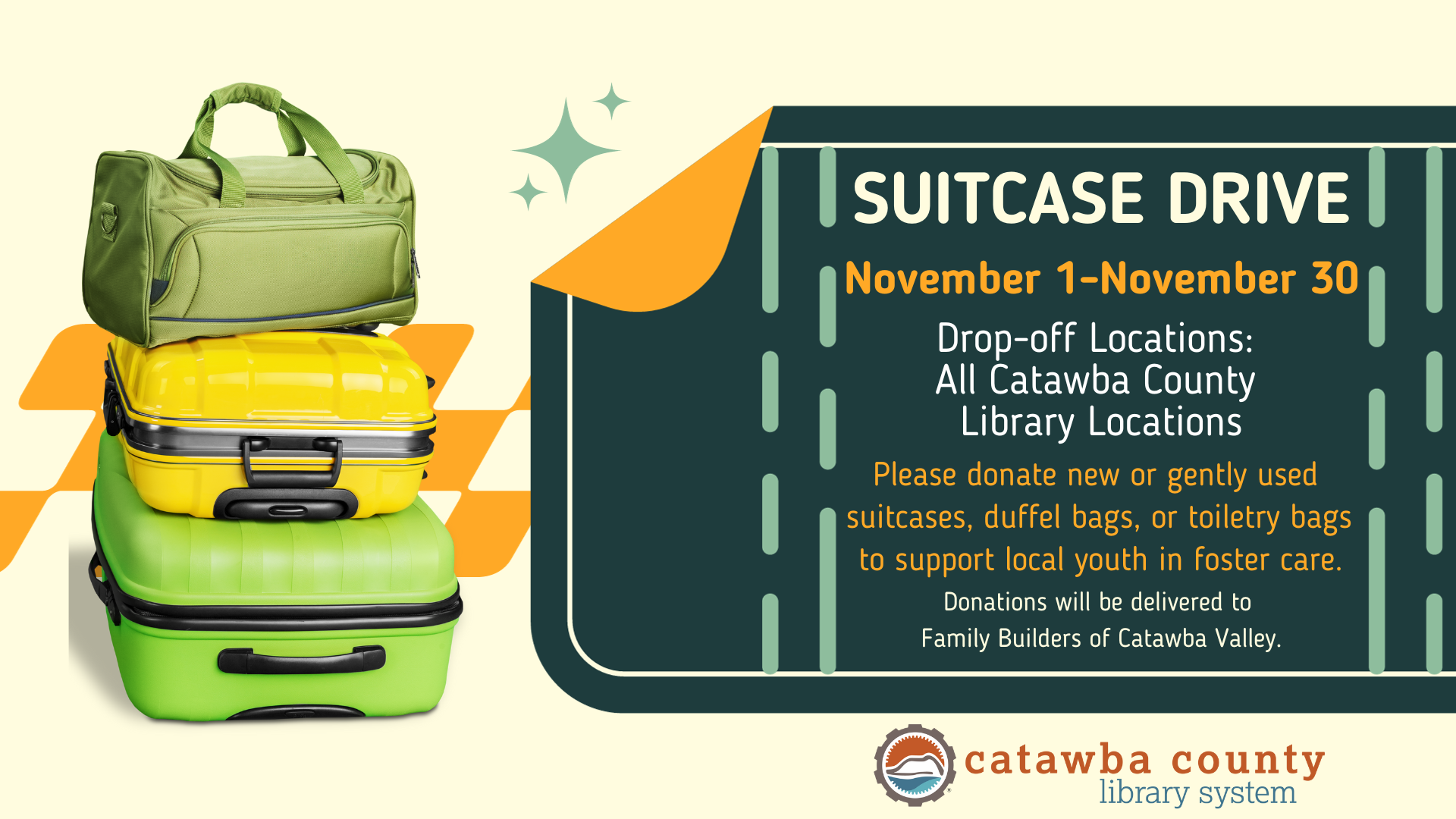 ---
Library Hosts Suitcase Drive
Published: October 26, 2023
During the month of November, the Catawba County Library will host a suitcase drive to benefit children in foster care.
Due to lack of resources, unexpected moves, and needing to quickly gather all of their belongings for transport, garbage bags have become the unofficial suitcase for children in foster care. Imagine the confusion and embarrassment of carrying everything you own in a garbage bag, while everything in your life is drastically changing. The library seeks to help provide dignity and an easy way to keep belongings together through a suitcase drive.
All library locations will be collecting new or gently used suitcases, duffel bags, or toiletry bags during the month of November. Donated items will be given to local children in foster care, a tangible way to show them the community cares about them.
All donations will be delivered to Family Builders of Catawba Valley for distribution. Family Builders of Catawba Valley, part of Catawba County Social Services, has a mission to create, build, strengthen and sustain all families through foster, adoption, and kinship services. In conjunction with the suitcase drive, Family Builders will also be hosting two Foster/Adoption Information Meetings, one on Monday, November 20 at 12 noon at the Main Library in Newton, and one on Tuesday, November 21 at 3:30 pm at the Southwest Branch Library.
Family Builders invites anyone interested in fostering or adopting a child to attend one of these resource family information sessions. Resource families may foster, adopt, or provide kinship or respite care/visiting services for waiting children. Learn about becoming a resource family, required training for resource families, and hear stories about the rewards of helping Catawba County's children in foster care.
The library invites the community to be a part of helping meet the immediate needs of local children by connecting them to the invaluable resource of suitcases, duffel bags, and toiletry bags by bringing donations to any library location throughout the month of November.
For more information about Family Builders of Catawba Valley, visit www.catawbacountync.gov/county-services/social-services/family-builder.