Catawba County News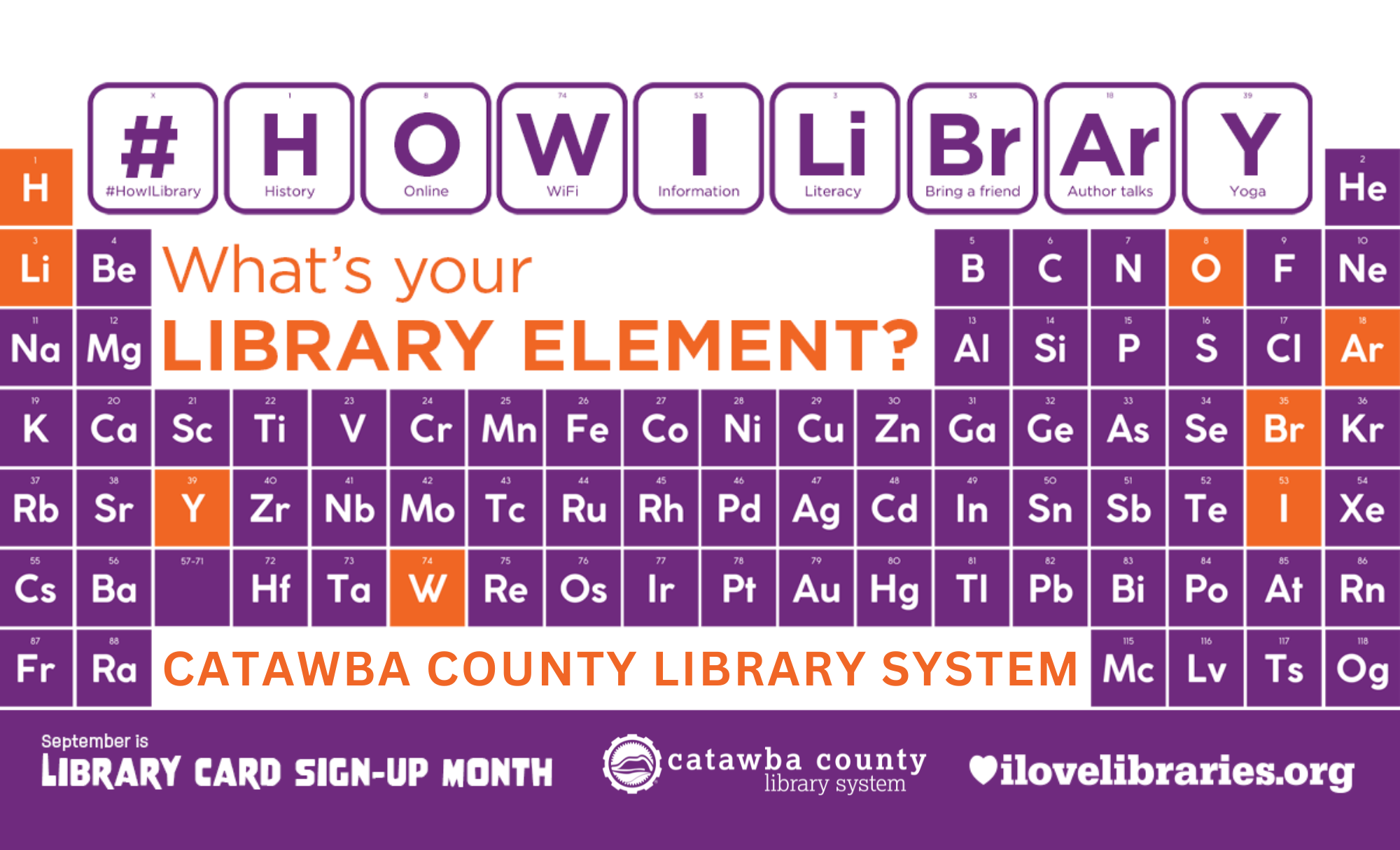 ---
Library Card Sign Up Month
Published: September 01, 2023
September is Library Card Sign Up Month, a time when the Catawba County Library joins libraries nationwide to remind everyone about the valuable resources available at your local library.

Considered by some as the most important school supply - a library card provides access to technology, innovative programming, and educational resources, giving students of all ages the tools to succeed in school. This is why National Library Card Sign Up Month is held each September to mark the beginning of a new school year.
The Catawba County Library offers laptop computers and Wi-Fi hotspots for check out so you can complete important job applications, school work, or research at home. Our trained library staff can also help you navigate complicated technology questions.

A library card helps everyone do more of what they enjoy, all without stretching their budget. Everyone knows that a library card allows patrons to borrow books, e-books, and audiobooks. Many have brought their children to one of our fabulous story time programs. But did you know that you can get help with homework, learn new skills, or attend a book club at your local library?

Interested in trying a new hobby? The library can help. Your Catawba County Library offers books to learn more about numerous pastimes and hobbies and hosts classes to introduce things like knitting, needle felting, 3D printing, and cooking. You can also try out yoga, Zumba, or meditation.

With a Catawba County Library card you can borrow an American Girl doll or choose from a selection of outdoor games like Corn Hole, Croquet, Pickle Ball and Bocce ball to take home. There's something for everyone at the library, and signing up for a library card is the first step on the path. It's elemental, really—everyone should have one!

The Catawba County Library continues to adapt and expand services to meet the evolving needs of our community, promoting education, knowledge sharing, social interaction and community wellbeing. We provide high-quality resources while fostering our community's passions for discovery, knowledge, and personal growth. The library works collaboratively with other local and national organizations to address critical challenges facing the community by providing equitable access to the tools, resources, and spaces people need to succeed and thrive.

All ages are encouraged to sign up for a library card or to learn more about the library's resources and programs, please visit www.catawbacountync.gov/library.