Catawba County News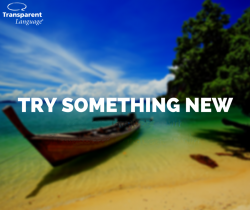 ---
Learn a Language with a New Library Resource
Published: January 07, 2021
If learning a foreign language is one of your New Year's resolutions, or if you'd like to introduce your child to the benefits of learning about different languages and cultures, the Catawba County Library has a new resource to help.
Transparent Language Online provides a fun, engaging experience for learners of all levels to develop their skills. The free language-learning system offers more than 110 languages for native English speakers, and it features English as a Second Language materials for speakers of foreign languages. Transparent works on any Internet-connected laptop or tablet, and it offers free mobile apps for iOS and Android devices, ensuring that people can learn at home or on the go.
From Afrikaans to Zulu, Transparent helps users pick up new languages with a variety of tools, including:
Alphabet Courses, which familiarize people with new writing systems so they can feel confident learning languages like Mandarin Chinese, Hindi, or Arabic.
Essentials Courses, which guide users through 30+ lessons of fundamentals, including meeting and greeting, expressing wants and needs, planning for a trip, dealing with money, and asking for help.
General Vocabulary, which provides organized lists featuring thousands of new words and phrases, along with interactive activities to build skills in listening, speaking, reading, and writing.
Grammar Reference, which offers an extensive index of both written and multimedia explanations of critical rules and patterns.
Transparent also provides lessons that target the needs of business professionals, first-time travelers, and learners who just want a quick overview. Users can subscribe to the Transparent Blogs to see videos and read exciting articles in their target language. Also handy are video lessons, printable guides, proficiency tests to gauge progress, and user-created content that leads learners through specific situations they may encounter when traveling. A customizable Learning Path allows users to select the order of their lessons and tracks their progress to keep them motivated to achieve their language-learning goals.
Transparent also tailors a selection of its courses to children, tapping into their natural ability to absorb information and learn quickly. KidSpeak™ provides playful, age-appropriate lessons for young learners 6 and up, teaching suitable words and phrases in English, Spanish, French, Italian, and Mandarin Chinese. More than 40 activities, puzzles, and songs guide children through the basics, along with a cartoon 'friend' who speaks the language.
Catawba County Library cardholders have access to Transparent Language Online via NC LIVE through the Online 24/7 page on the library's website. New library patrons can sign up for a Quick Start card online at https://ls2pac.catawbacountync.gov/?config=default#section=obrsignup and then get access to Transparent.