Catawba County News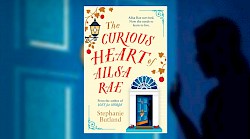 ---
Hearts & Minds Book Club
Published: February 11, 2021
We're excited to be starting up the Hearts & Minds Book Club after its pandemic hiatus! On a monthly basis, the club explores novels that address issues of health and wellness, offering readers a chance to weigh in on both the topic and the narrative and characters.
Hearts & Minds' next discussion looks at British author Stephanie Butland's novel The Curious Heart of Ailsa Rae, which is set in the aftermath of Ailsa's recent heart transplant. In the midst of her physical recovery, she's also addressing parental and romantic relationships and learning what it is to feel alive again. Her journey to find joy is the theme and one the club will take on as well. The novel is particularly interesting in light of the fact that author Butland is a breast cancer survivor, so she has some experience with new leases on life.
The Hearts & Minds conversation will take place at 5:30 pm on Thursday, February 18. People who are interested in participating are asked to send an email to share@catawbacountync.gov to receive the Zoom invitation. Then, on the day of the gathering, it's just a matter of making a cup of tea or coffee and settling in to chat about life, loss, love, and living.