Catawba County News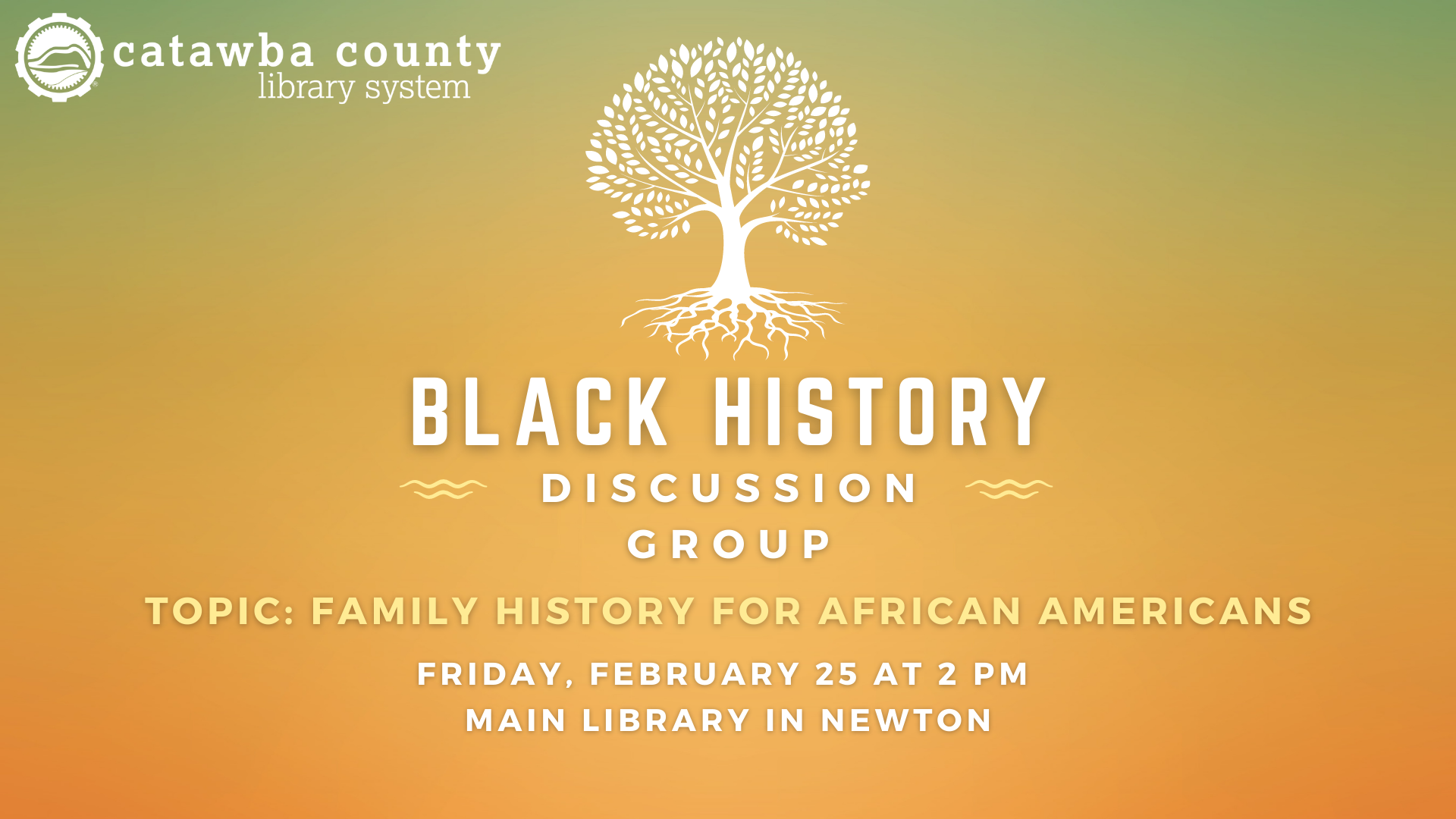 ---
Family History and Genealogy Resources for African Americans
Published: February 24, 2022
Family history and genealogy for African Americans present a unique set of challenges. For this month's meeting of the Black History Discussion Group on Friday, February 25 at 2 pm, local genealogist Alex Floyd, is sharing a range of resources that he uses to overcome these challenges to help families follow their histories and learn about their ancestors.
The library would still like to share these resources for those not able to attend. Here is a list of selected online resources curated by our genealogy department for those researching African American family history:
This website includes a 6-page guide to African American family research.
Databases include: 1850 and 1860 Slave Schedule, 1850-1885 Mortality Schedules, 1829-1947 US African American newspapers, and the (1850-2000) US African-American Photo Collection.
Heritage Quest Online (available through www.nclive.org)
This website also includes a guide to African American family research, mortality schedules, and the 1850 and 1860 Slave Schedules, along with the 1865-1874 US Freedman's bank records and 1882-1889 Dividend Payment Records.
Afro-American Historical and Genealogical Society www.aahgs.org
4 NC Chapters: Piedmont Triad, NC Triangle Region, Sandhills, and Charlotte. This organization publishes an annual journal and bi-monthly newsletter.
State Library of NC https://statelibrary.ncdcr.gov/
Offers records of Enslaved People, https://statelibrary.ncdcr.gov/research/genealogy-and-family-history/family-records/records-enslaved-people
Documenting the American South www.docsouth.unc.edu/neh/texts.html
North American Slave Narratives, follow the subject index for African American and Black stories.
Along with these online resources, family history researchers looking for local information on African American family members can also visit the Rhodes Room at the Main Library in Newton. The Rhodes Room offers local records, newspapers, and a dedicated collection of books to assist in your search.
The Rhodes Room, located at the Main Library in Newton, is the home of our Genealogy and Local History Collection. The Rhodes Room is open to the public Tuesday through Saturday from 9 am to 6 pm. For more information, visit the Main Library in Newton or www.catawbacountync.gov/library/gen