Catawba County News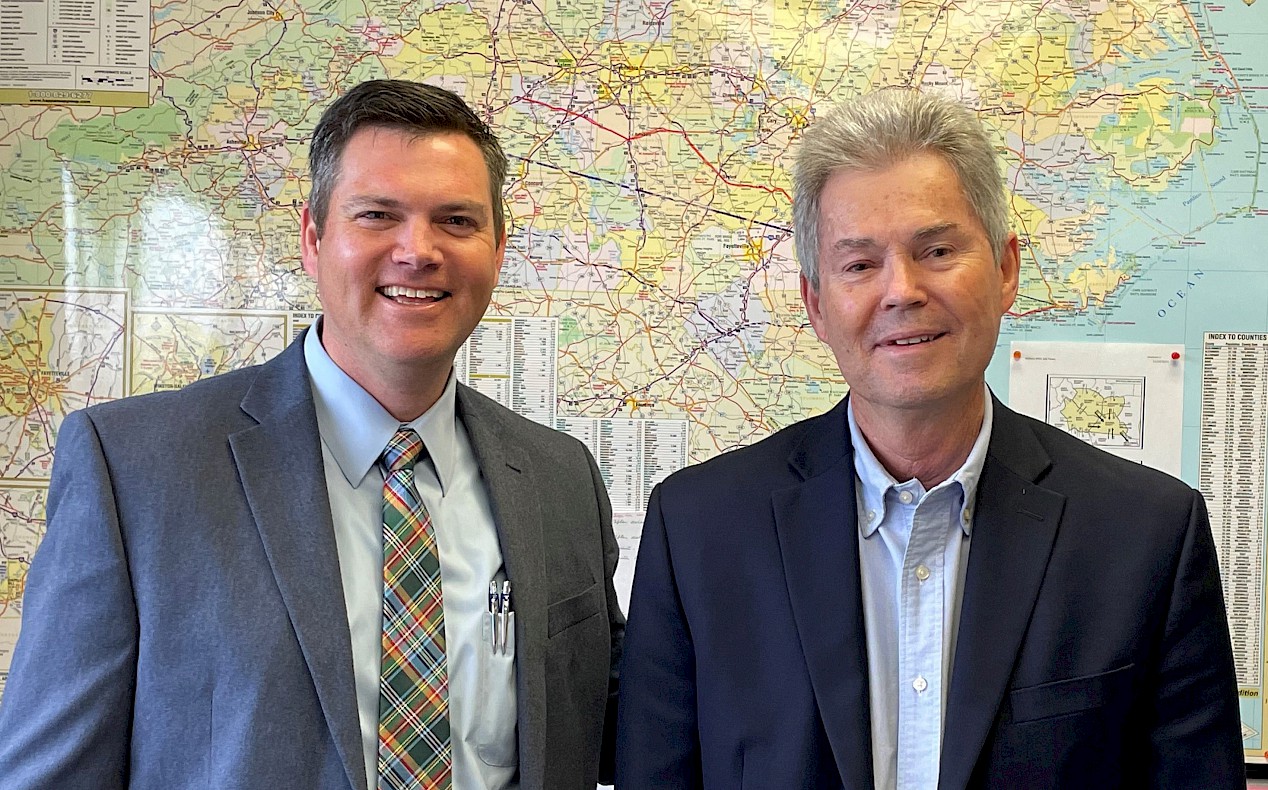 ---
Eubanks to Retire, Timberlake Promoted to Planning & Parks Director
Published: December 07, 2021
Former Assistant Planning Director Chris Timberlake, AICP, has been promoted to Planning & Parks Director for Catawba County. He is currently serving as co-director alongside longtime Planning & Parks Director Jacky Eubanks until Eubanks' official retirement January 1, 2022.
Eubanks has served as Catawba County's Planning & Parks director for nearly 20 years. Throughout his tenure, Eubanks oversaw the development and implementation of the county's Small Area Plans, the Farm & Food Sustainability Plan, the Voluntary Agriculture District Program, and several iterations of the Parks Master Plan.
One of Eubanks' most significant contributions has been the introduction and development of the county's Unified Development Ordinance, which brought the county's various planning regulations together into a more simplified, cohesive approach toward guiding development.
Additionally, under Eubanks' purview, the Catawba County Park System grew from one to four parks (Bakers Mountain, Riverbend, St. Stephens and the forthcoming Mountain Creek) that together offer nearly 1,500 acres of natural habitat for passive recreation. This includes Eubanks' facilitation of the recent 209-acre expansion at Riverbend Park.
"Jacky has led the quality growth of Catawba County with passion and vision," said Catawba County Manager Mick Berry. "He has been a relentless advocate for parks and recreation for our citizens. It has been a pleasure to work with Jacky, and I offer sincere congratulations on his retirement. We are grateful for his many years of outstanding service to the citizens of Catawba County, and thanks to his leadership, he is leaving Planning & Parks in good hands."
"It has been my absolute pleasure to serve the citizens of Catawba County, working under the steady guidance of a great management team at the direction of a visionary Board of Commissioners," Eubanks said. "I have worked in the profession for over 40 years, first in municipal government, then as a private consultant and now in county government. The last 20 years have been the most rewarding professionally, and I will be eternally grateful for that opportunity."
Timberlake has worked with the Catawba County Planning & Parks division for 15 years and served as assistant planning director for the past three. As the county's new planning director, Timberlake oversees short-term and long-range planning for the County in collaboration with the Catawba County Board of Commissioners, County Manager Mick Berry, other County departments, local municipalities, various external agencies and county residents.
Areas under Timberlake's oversight within Catawba County Planning & Parks include comprehensive and small area plans, the Unified Development Ordinance, zoning regulations, subdivision reviews, the Voluntary Agricultural District Program and the Catawba County Park System.
"Over his 15 years with us, Chris has not only demonstrated the acumen needed to navigate complex planning issues, but has also established strong working relationships in our community," Berry said. "We are looking forward to working even more closely with him in this new role."
"I am excited for the opportunity to serve as Catawba County's next Planning & Parks director, and I look forward to working alongside many people to continue the efforts of advancing the county's mission of making living better," said Timberlake.
Timberlake received dual bachelor's degrees in Community Regional Planning and Geography from Appalachian State University. He earned the American Institute of Certified Planners (AICP) certified planner designation from the American Planning Association in 2013 and is a member of the North Carolina chapter of the American Planning Association, Balls Creek Lions Club, and Mt. Ruhama Baptist Church. Timberlake resides in Newton with his family.
For more information about Catawba County Planning & Parks, visit www.catawbacountync.gov.