Catawba County News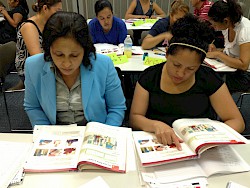 ---
ESL Classes Enhance Skills
Published: January 28, 2021
Is English your second language, or do you know of someone who is a non-native English speaker? The library is hosting weekly classes to help people refine their speaking skills, and everyone is invited to participate!
The sessions meet at 6 pm every Tuesday evening via Zoom, and the casual, no-pressure environment is conducive to speaking, making mistakes, getting some gentle guidance, and having fun in a group dynamic. Weekly lessons provide a quick, 20-minute framework for the classes, but then, conversation begins so that participants can get practical experience in real-life interactions. Questions and comments are always welcome, especially as people work to figure out idioms and other quirks in pronunciation, usage, and grammar.
If you'd like to register for class or get more information about what's involved, please call the Main Library in Newton at 828.465.8664. This series of classes is targeted to intermediate speakers and runs through May 2021.
For additional instruction, Transparent Language Online – one of the library's digital resources – includes English as a Second Language courses. Transparent works on any Internet-connected laptop or tablet, and it offers free mobile apps for iOS and Android devices, ensuring that people can learn at home or on the go. To learn more about it, visit https://www.catawbacountync.gov/news/learn-a-language-with-a-new-library-resource/.