Catawba County News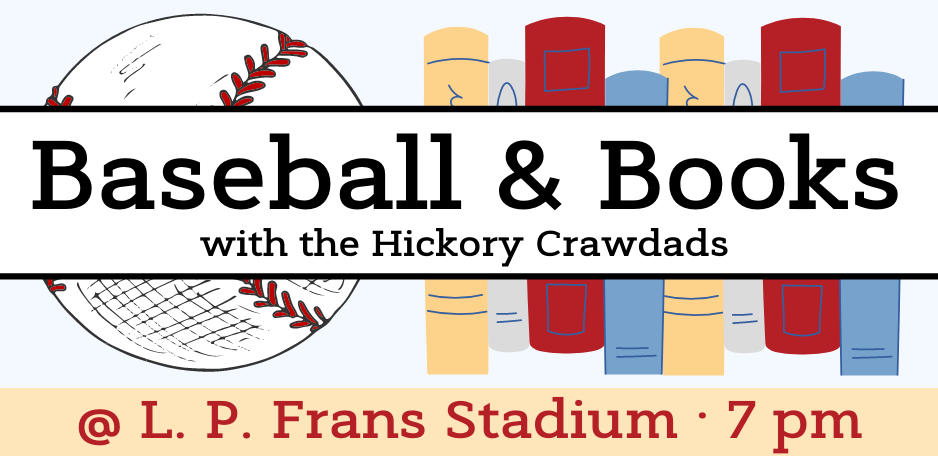 ---
Enjoy Baseball & Books with the Hickory Crawdads
Published: July 22, 2021
If you're participating in the Catawba County Library's Summer Learning program – and you've met the reading challenge goals – you can claim a big reward for your efforts!
Kid and teen readers who have logged at least 300 minutes can come to any branch to get a voucher for the Hickory Crawdads match-up against the Greenville Drive at 7 pm on Wednesday, July 28.
The game is free with your voucher, but you must redeem it for a ticket at the Crawdads box office beforehand. The voucher is valid only on July 28, and the game takes place at L.P. Frans Stadium at 2500 Clement Blvd NW in Hickory.
As an added bonus, the Library to Go will be set up at the entrance to the stadium prior to the Crawdads games on July 28, August 18, and September 10. Stop by to explore, check out books, learn about upcoming library programs, and even collect prizes you've earned for completing Summer Learning reading challenges.
This year's Summer Learning activities wrap up on August 8, so there's still time to participate by registering at www.catawbacountync.gov/library. You'll also have the opportunity to become eligible for cool grand prize drawings. For kids, those prizes include tickets to Carowinds, Zootastic Park, Lazy 5 Ranch, and Catawba Science Center.