Catawba County News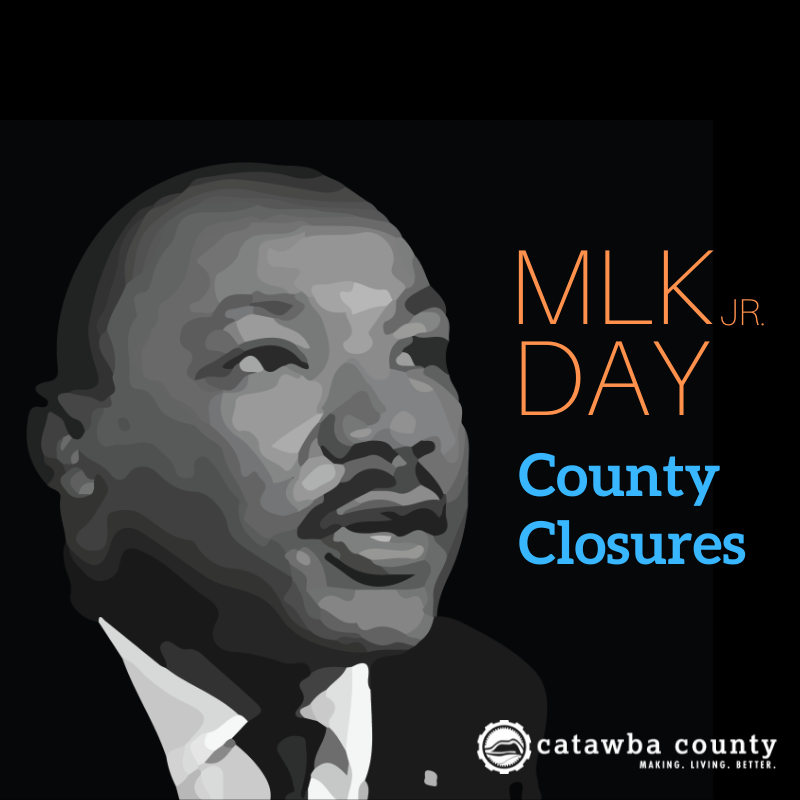 ---
County Government MLK Holiday Schedules
Published: January 10, 2022
Catawba County government offices and facilities will observe the Monday, January 17 Martin Luther King, Jr. Day holiday as follows:
Catawba County Government offices will be closed and will reopen at 8:00 a.m. Tuesday, January 18.
The Catawba County Park System (Bakers Mountain, Riverbend and St. Stephens) will be open.
All Catawba County Library System branches (Newton, Claremont, Conover, Maiden, Sherrills Ford-Terrell, Southwest and St. Stephens) will be closed Monday and will reopen following their usual schedules.
Catawba County Public Health will be closed. However, please note that StarMed will be open for drive-through COVID-19 testing at Public Health.
The Blackburn Sanitary Landfill will be open. The Blackburn Construction & Demolition Landfill will be closed.
The Blackburn Solid Waste & Recycling Convenience Center will be open following its usual hours. All other convenience centers (Bethany Church Road, Cooksville, Oxford and Sherrills Ford) are closed on Mondays.
The Catawba County Animal Shelter is closed on Mondays.