Catawba County News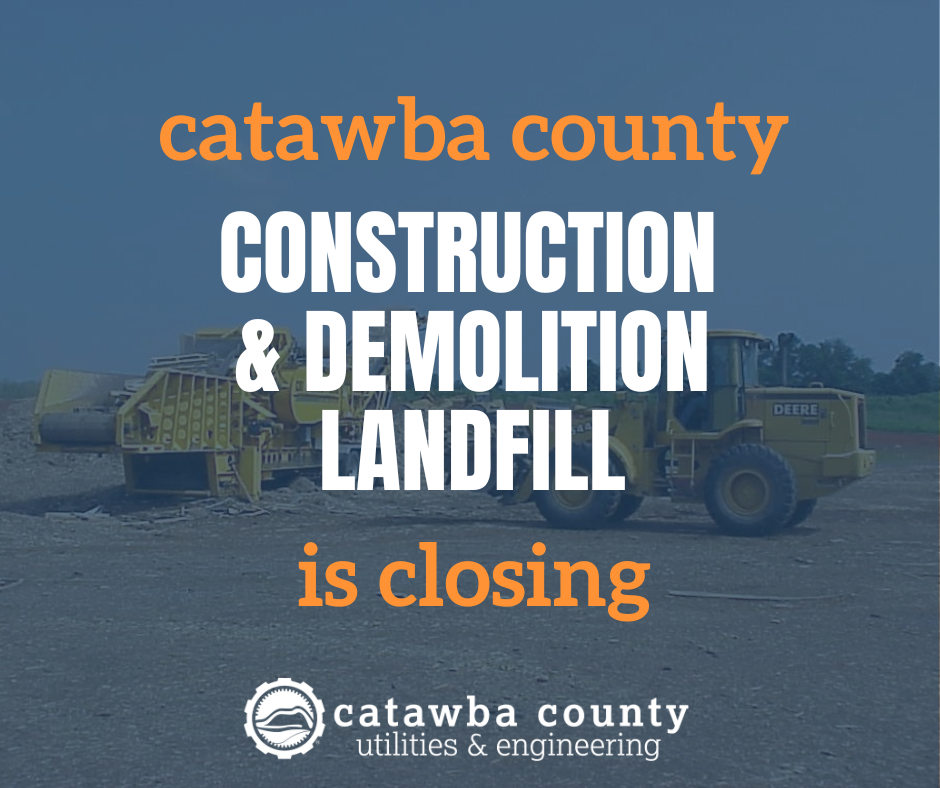 ---
Construction and Demolition Landfill to close permanently effective May 1, 2023
Published: March 13, 2023
The Catawba County Construction and Demolition landfill, having reached its capacity, will close permanently May 1, 2023. The landfill is part of the County's Blackburn Resource Recovery facility located at 4017 Rocky Ford Rd. in Newton.
Beginning May 1, all waste normally accepted by the Construction and Demolition Landfill will be accepted by the facility's Municipal Solid Waste Landfill. This includes any waste generated from the construction, renovation, repair, and demolition of structures such as residential and commercial buildings, roads, and bridges.
Waste collected at the Blackburn Landfill Grinding Area will remain unchanged. Asphalt, concrete, brick, and block are accepted at no charge if the material is free of reinforcement materials. For a nominal fee, the Grinding Area also accepts natural wood waste, such as clean, uncontaminated wood pallets and brush, limbs, and trees, as long as limbs and trees are cut no larger than 8 feet long and 14 inches in diameter.
The Municipal Solid Waste Landfill disposal fee is $37.96 per ton due to higher construction and maintenance costs associated with the newer landfill. For Grinding Area pricing information, call the Landfill at 704-462-1348.
The Municipal Solid Waste Landfill is open 7:00 a.m.-4:00 p.m. Monday through Friday and 8:00 a.m.-11:30 a.m. Saturday. For more information, please contact the Blackburn Resource Recovery facility at 704-462-1348.