Catawba County News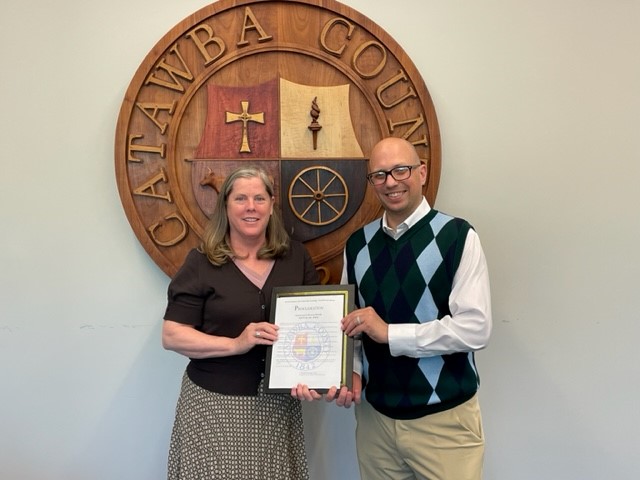 ---
Celebrate National Library Week 2023
Published: April 20, 2023
Catawba County Library System encourages all community members to visit the library during National Library Week, where we take time to highlight the role libraries, librarians and library workers play in transforming lives and strengthening communities. The theme for this year's National Library Week is "There's More to the Story," and will take place April 23-29.
Most know about the wealth of stories available at the library, from picture and large print books to audiobooks and ebooks, but there's so much more to the story of libraries.
Libraries are welcoming spaces that bring communities together for entertainment, education, and connection through book clubs, storytimes, movie nights, crafting classes, lectures, and more. The Catawba County Library offers a wide array of programs, classes and resources, including laptops and hotspots, but many people are surprised to hear that we also have American Girl dolls, Zumba workout kits, yoga blocks as well as Pickleball, croquet, and corn hole sets.
Libraries also play a critical role in the economic vitality of communities by providing internet and technology access, resources, and support for job seekers, small businesses, and entrepreneurs. Catawba County Libraries are constantly evolving to support the community with services such as technology workshops and one-on-one sessions, career resources and workshops, and new online training software for people wanting to work in the trades.
The Catawba County Board of Commissioners made an official proclamation on Monday, April 17th, declaring National Library Week as a time to celebrate our nation's libraries as accessible and inclusive places that promote a sense of local connection, advancing understanding, civic engagement, and shared community goals.
There's even more to the story, and this National Library Week we want to shine a spotlight on resources and services that everyone may not know about. Here is a list of things for which the library is proud to say,
Yes, we have that!
• Early Literacy - new & engaging early literacy spaces, Ready to Learn Storytimes, Pre-K Play, Ready to Learn storytime bags, 1000 Books Before Kindergarten program, early literacy toys, STEAM activities, AWE computers, books, audiobooks, animated or talking picture books, and e-books.
• Health & Wellness - community garden, Zumba, Yoga, Stretch and Meditation, healthy eating classes, non-certification CPR, First Aid, and AED machine trainings through Catawba Catawba County Emergency Services, and bags of non-perishable food for local families with food insecurity through The Corner Table.
• Meeting and Study/Work Spaces - meeting rooms available for non-profit educational, civic, cultural and other charitable community uses and smaller study rooms and work spaces, available for school work, student study groups, working remote, and small meetings. These spaces are outfitted with private and safe video-conferencing software and technology.
• Technology and TechConnect - expert help from library staff, classes on technology and tech tools, one-on-one sessions by appointment, STEAM classes, 3D printing, digital cutting, public computers, faxing, scanning, and even chromebooks and Wi-Fi hotspots to check out for use at home.
• Workforce Development - Skill Mill (an interactive computer program that teaches users the basics of plumbing, electrician, HVAC repair, and solar installation), VR headsets allowing for virtual on-the-job experience, career-focused workshops through NCWorks Catawba, one-on-one sessions for resume building, and public computers for completing job applications.
Help us celebrate National Library Week by visiting with us during the week of April 23-29. Follow the library on Facebook and Instagram, along with the hashtag #NationalLibraryWeek to join the online celebration.
For more information about the Catawba County Library's services and programs, please visit www.catawbacountync.gov/library, call 828.465.8665, email mylibrary@catawbacountync.gov, or visit www.facebook.com/catcolibrary.
Library Director, Siobhan Loendorf, and County Commissioner, Cole Setzer share the Catawba County Board of Commissioners' National Library Week proclamation.