Catawba County News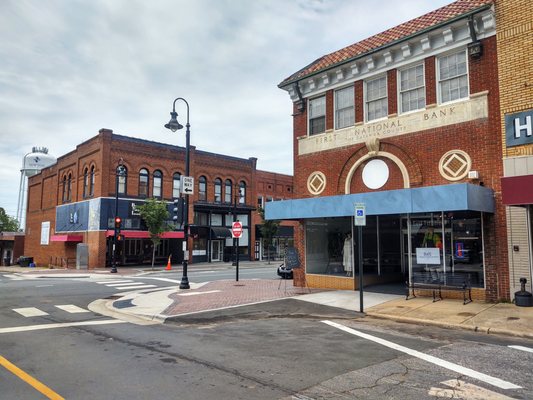 ---
Catawba County Library Named 2020 Main Street Champion by NC Commerce
Published: March 18, 2021
On Thursday, March 11, the North Carolina Department of Commerce recognized the Catawba County Library staff as one of its 2020 North Carolina Main Street Champions in a virtual ceremony. The annual honor is extended to people and organizations that have demonstrated a commitment to downtown revitalization and to strong communities.
The library was nominated for the award by the Downtown Newton Development Association (DNDA) and was one of 38 Main Street Champions celebrated for their contributions to Main Street programs and downtown districts last year. Including the 2020 honorees, 804 Champions have been recognized statewide since 2000.
DNDA representatives Maura Johnston (DNDA vice-chair, Lamar Advertising), Crystal McMillan (DNDA treasurer, Wells Fargo banker), and Summer Lee Jenkins (The Corner Table Soup Kitchen executive director) hosted a special awards presentation at the Main Library in Newton, including a virtual ceremony and a surprise breakfast catered by Newton restaurants The Hen & Egg, Narrow Coffee & Nosh, and Whisk & Barrel Café.
Following the announcement, Catawba County Library director Siobhan Loendorf shared, "It is such an honor to be recognized as a Main Street Champion for the City of Newton. We enjoy a long history of working with the city and love being a part of making Newton a great place to live and raise a family."
According to Liz Parham, director of the NC Main Street and Rural Planning Center, "NC Commerce and NC Main Street have been recognizing Main Street Champions for more than two decades. We know that the success of downtown districts is because of the people behind the effort, and each year, we recognize the visionary individuals that have a strong sense of commitment to their community. They develop projects that improve quality of life, grow cultural and recreational development, renovate historic properties, and spur investment and create jobs and businesses."