Catawba County News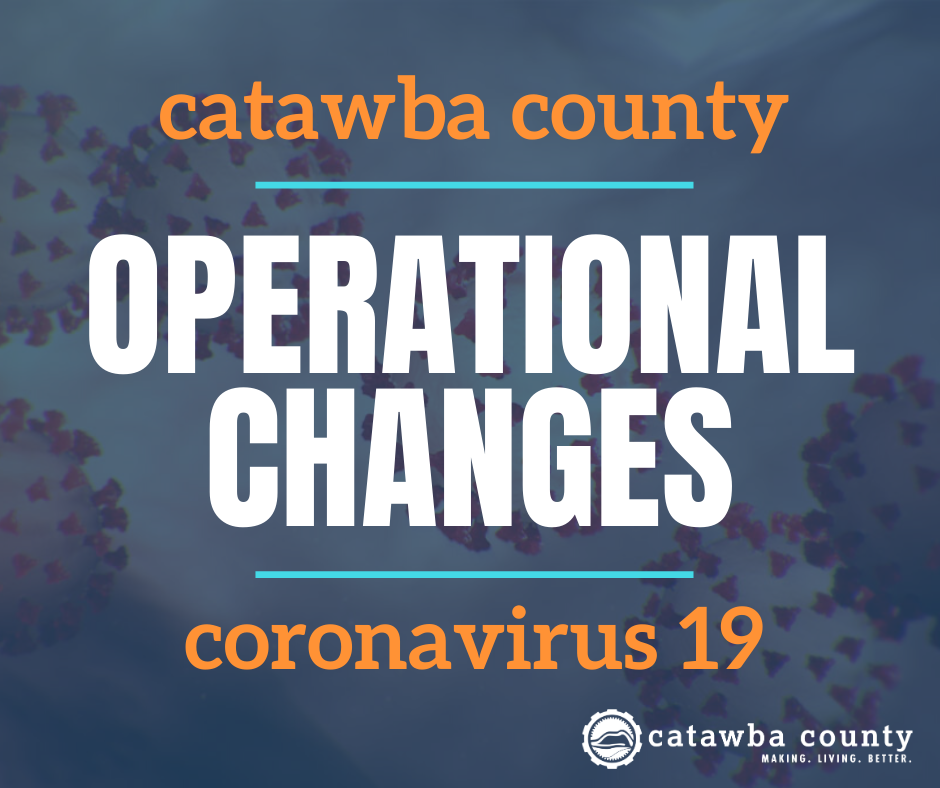 ---
Catawba County Operational Changes
Published: March 30, 2020
During Phase 1 of the Governor's Stay at Home Order, Catawba County Government will continue to provide essential services to citizens. Where possible, county government offices are conducting business by phone and online to enable citizens to stay at home and limit public contact. Social distancing practices have been implemented to minimize contact when in-person business takes place. We encourage all citizens to help protect themselves and others by following the Governor's order and minimizing contact with others.
Citizens are encouraged to visit our Online Services tab in the navigation menu across the top of this page to access some of our most frequently used online services. To contact a department directly, visit our Departments & Divisions page to find phone numbers for every county service area. Citizens who have questions or aren't sure who to call may dial (828) 465-8500 to be connected to someone who can help.
The following county government operational changes are currently in effect. All operations updates will be on this website post. Residents are encouraged to check back regularly and to follow Catawba County on Facebook (@catawbacountync) and Twitter (@catawbacounty) for related updates. Information is subject to change.
Animal Shelter
Effective March 31, the Humane Society of Catawba County has closed the Newton and Hickory animal shelters to the public for the safety of the community, staff and animals. Humane Society staff continue to provide daily care to the animals in both facilities. If you are interested in fostering/adopting a pet from HSCC, please email Natalie Robinson, natalie@catawbahumane.org, to set up an appointment. To see a full listing of available pets, visit www.catawbahumane.org. If you have inquiries about a lost/stray pet, please call (828) 466-6812. If your pet is currently missing, you can see if they are at one of these facilities by checking the "Lost/Found Pets" tab at www.catawbahumane.org.
Board of Commissioners
The Board has resumed its usual meeting schedule following current social distancing guidelines.
Cooperative Extension
The Catawba County Extension office is operating on a reduced schedule from 9:00 a.m. to 4:00 p.m. with the office closed from noon to 1:00 p.m. Extension agents are still available by email, phone and other technological means. Find contact information and details regarding N.C. Cooperative Extension's Catawba County center operations on their website at https://catawba.ces.ncsu.edu/people/.
Landfill & Convenience Centers
The Catawba County Landfill and five county Convenience Centers are open and operating on a normal schedule. In observance of social distancing recommendations, the Catawba County Landfill is making the following temporary changes to its operations:
Landfill offices will be closed to the public. A phone number will be posted at all office access doors. Visitors may call the number to get in touch with an employee for directions or answers to questions.
Scale attendants will operate as usual except for the provision of safety vests. Prepackaged safety vests will be handed out unopened and will not need to be returned.
Operators will perform load inspections and provide instructions from their cabs. As a result, this process may take longer and/or require customers to go to another dumping area.
Landfill and convenience center operational days and hours have not changed and are listed below as a reminder. Please call (704) 462-1348 with any questions or concerns.
Landfill Hours:
4017 Rocky Ford Road, Newton
Municipal Sanitary Landfill (Household Garbage)
Monday through Friday 7:00 am – 4:00 pm and Saturday 8:00 am – 11:30 am
Construction & Demolition Landfill
Monday through Friday – 7:00 am – 4:30 pm and Saturday 8:00 am – 11:30 am
Grinding/Mulch Area
Monday through Friday – 8:00 am – 4:30 pm and Saturday 8:00 am – 11:30 am
Convenience Center Hours:
Blackburn Convenience Center
3864 Rocky Ford Road, Newton
Monday, Tuesday, Thursday, Friday, and Saturday: 10:00 am – 6:00 pm
Bethany Church Rd. Convenience Center
2436 Bethany Church Road, Newton
Tuesday through Saturday: 10:00 am – 6:00 pm
Cooksville Convenience Center
3659 Rhoney Farm Road, Vale
Friday and Saturday: 8:00 am – 6:00 pm
Oxford Convenience Center
4637 Lookout Dam Road, Catawba
Wednesday through Sunday: 10:00 am – 6:00 pm
Sherrills Ford Convenience Center
8876 Sherrills Ford Road, Sherrills Ford
Thursday through Sunday: 10:00 am – 6:00 pm
Library System
Beginning Saturday, May 9, the Catawba County Library will open its doors to the public for the first time since March 17, restoring direct access to computers, library materials, and other in-house resources.
Operating under Governor Cooper's Executive Order 138 Requirements for Phase One Retail Business Openings, the library will implement limited occupancy, social distancing, and safety protocols that support public health needs while also delivering the important services that county residents depend on.
The Sherrills Ford-Terrell, Southwest, and St. Stephens branches will operate with their pre-COVID service hours. The Main Library at Newton will be open from 10 am-7 pm Monday-Thursday (note the new hours) and 9 am-6 pm Friday-Saturday. The Claremont, Conover, and Maiden branches will reopen at a later date to be determined.
To accommodate library visitors safely under these new state requirements, the library will put into practice the following procedures:
Limited and Timed Access: In order to maintain social distancing and sanitizing guidelines, a certain number of patrons will be permitted to enter the library at any given time. Each one will check in with a staff member for a one-hour period of access. When the hour is up, that patron will exit, and the next person in line will be admitted. Patrons are encouraged to call ahead to check on availability and potential waits. We also ask that customers with COVID-19 symptoms do not join us at this time.
Signage and Markings: To help with social distancing and the formation of orderly lines, signage and painted/taped guides will be installed at the entrances to the buildings and inside each branch.
Enhanced Safety: The library has installed service desk shields and has provided face masks and face shields to staff members. They will wear gloves and sanitize high-touch surfaces (computers, keyboards, mice, printers, copiers, furnishings, etc.) between customer use. Customers are encouraged to wear masks and to use sanitizing supplies provided at the library.
Staff Health: All staff will be screened daily for symptoms and will not be allowed to work if they are unwell.
Meeting Spaces and In-House Library Programs: Thesewill be reintroduced at a later date as safety restrictions allow.
Curbside Pickup, Telephone Assistance Still Available: Customers who are not yet comfortable entering a library building may continue to take advantage of curbside pick-up service at the Newton and Sherrills Ford-Terrell locations. Books, audiobooks, DVDs, and other materials may be reserved through the library's online catalog (www.catawbacountync.gov/library) or by calling any branch for personal assistance. Library team members are ready to help with your information needs by telephone as well.
Digital Resources Reminder: The library also offers a robust selection of digital resources that are available 24/7 from any location where patrons have an Internet connection. A library card and PIN number are typically needed to sign in and electronically borrow books, movies, music, graphic novels, magazines, and more. Free databases can also help with career and job development, training and certification, legal forms, ancestry searches, personal learning and research, language learning, and early childhood literacy. In addition, the library has laptop computers and Wi-Fi hotspots available for checkout, and customers can place a hold or contact their library about availability.
The library will continue issuing automatic renewals and isolating returned materials for 72 hours, with no late fees.
For more information about the Phase One reopenings or the Catawba County Library's resources and services, visit www.catawbacountync.gov/library, call 828.465.8665, email mylibrary@catawbacountync.gov, or visit @catawbacountylibrarysystem on Facebook.
Parks (Bakers Mountain, Riverbend and St. Stephens): All Catawba County Parks remain open following usual operating hours. All rentals and group use of Catawba County Parks education facilities and picnic shelters have been suspended until further notice.
Register of Deeds
The Catawba County Register of Deeds has made temporary adjustments to the following services:
Recording Real Estate Documents (updated 3/23/20)
For those who have online access, we strongly encourage the electronic recording, or eRecording, of all real estate documents. Information about eRecording can be found on our website at http://www.catawbacountync.gov/county-services/register-of-deeds/real-estate/erecording/. Some of our eRecording vendors have agreed to waive all startup fees and annual costs during this time. Please check online to contact our vendors or call (828) 465-1573 for more information.
There will be no difference in how we handle documents that are eRecorded or mailed to our office. In-person, we ask that only one person to come in and to please call when you have arrived with your documents (828) 465-1573
Title searchers - please use our online site catawbacountync.gov/rod as much as possible and call before heading our way for any up-to-date changes.
Birth, Death and Marriage Certificates (Updated 3/23/20)
All certified copies of birth, death and marriage certificates will be available for purchase online, drop box or through the mail. The online service charge will be waived during this time; therefore, the office will charge you only the regular cost of the certificate at $10 per certified copy. To purchase a certificate, visit https://www.getcertificatenow.com:8443/Catawba.
If you are starting a new request or returning a request in person, a new drop box has been located just outside the Register of Deeds office where forms and envelopes will be provided. Requests left in the drop box must include a copy of your ID and payment by check or money order. Requests will be reviewed and filled Monday through Friday during regular business hours, 8:00 a.m. to 5:00 p.m.
You may email us a copy of you photo ID to include the name being requested on the certificate you left in the drop box at vr@catawbacountync.gov.
Funeral home requests need to be made by the above mentioned drop box, online or mail. If made online request and choose pickup, we will place certificates in a marked tray at the front of our office.
All requests made by 4:00 p.m. will be responded to by mail the same day.
Should you have an emergency vital records request or issues (birth, death or marriage), please call our office for further assistance at (828) 465-1573.
Marriage Licenses
Marriage licenses will be handled in-person by appointment only during regular business hours. Appointments can be made by calling (828) 465-1573. It is required that all marriage applications be submitted online at http://rodm.catawbacountync.gov/ prior to making an appointment. You will need to bring all required documents and payment of $60 (prefer credit/debit). We ask that only the couple to be married come to the appointment at the scheduled time.
Notary Oaths - will be handled in-person by appointment only during regular business hours. Appointments can be made by calling (828) 465-1573. It is required to bring your ID and payment of $10 (prefer credit/debit). We ask that only the notary come to the appointment at the scheduled time.
NOTARIZING OF DOCUMENTS - suspended during this time.
If you are sick or unable to make it to scheduled time, please cancel your appointment and reschedule when you are well and able to attend.
Sheriff's Office
The Main Lobby of the Sheriff's Office will reopen Tuesday, May 25 following usual operating hours (8am-5pm). Lobby visitors will be limited to five people at a time. The Detention Center lobby remains closed until further notice. Pistol Purchase applications, Concealed Carry Permit and CHP renewal procedures are available online through the Sheriff's Office page on the county website, www.catawbacountync.gov/county-services/sheriffs-office/gun-permits/ . Detention Center Visitation will be available online via Homewav.com.
Social Services
Catawba County Social Services reminds residents that online applications are available for Food and Nutrition Services (formerly Food Stamps) and Medical Assistance (Medicaid and NC Health Choice or CHIP). Applications can be found online at ePass.nc.gov.
Additionally, residents may request applications by mail, e-mail or fax by calling (828) 695-6326. To return a completed application, use one of the following options:
Mail completed applications to PO Box 669 Newton, NC 28658
E-mail completed applications to karenm@catawbacountync.gov
Fax completed applications to (828) 695-5700
Drop off completed applications in the drop box located in the parking lot at Catawba County Social Services, 3030 11th Ave Dr SE, Hickory, 28602
Medical Assistance (Medicaid, and NC Health Choice or CHIP) applicants may also complete an application over the phone by calling (828) 695-6326.
Social Services/Meals on Wheels and Seniors Morning Out: Starting Monday, March 16, Catawba County Meals on Wheels clients will receive five frozen meals every Monday and check-in phone calls every Tuesday, Wednesday and Thursday. This schedule will remain in operation until further notice. Catawba County Senior Nutrition Services temporarily closed all Catawba County Seniors Morning Out (SMO) sites effective Monday, March 16. During this time, all SMO participants still have the ability to receive meals and will receive daily phone calls from Senior Nutrition Services staff.
Social Services/Children's Advocacy and Protection Center: Effective Monday, March 16, The Children's Advocacy and Protection Center has postponed all large gatherings until a later date.
Soil & Water Conservation District
District offices are closed to the public except by appointment until further notice. Office hours are 9:00 a.m.-12:00 p.m. and 1:00-4:00 p.m. Monday through Friday. If you would like to make an appointment during these times, please call (828) 465-8950. In addition, field visits have been restricted to those required for payment certification only.
Tax
Citizens are encouraged to use the county's online tax payment service, which can be accessed from the Tax page on www.catawbacountync.gov. For in-person payments, a secure drop box has been provided at the Government Center for check or money order payments. If paying with cash, citizens are encouraged to bring exact change or use the phone in the lobby to contact tax office staff. Credit card payments can be made by phone by calling 1-877-835-6102. Callers will need to provide the 18-digit abstract number on their tax bill and their mailing zip code.
Veterans Services
The Veterans Services office has suspended in-person appointments and is conducting all appointments by phone. Veterans requesting appointments may call the Veterans Services Office at (828) 465-8255 Monday-Friday, 8:00 a.m.-5:00 p.m. for assistance.