Catawba County News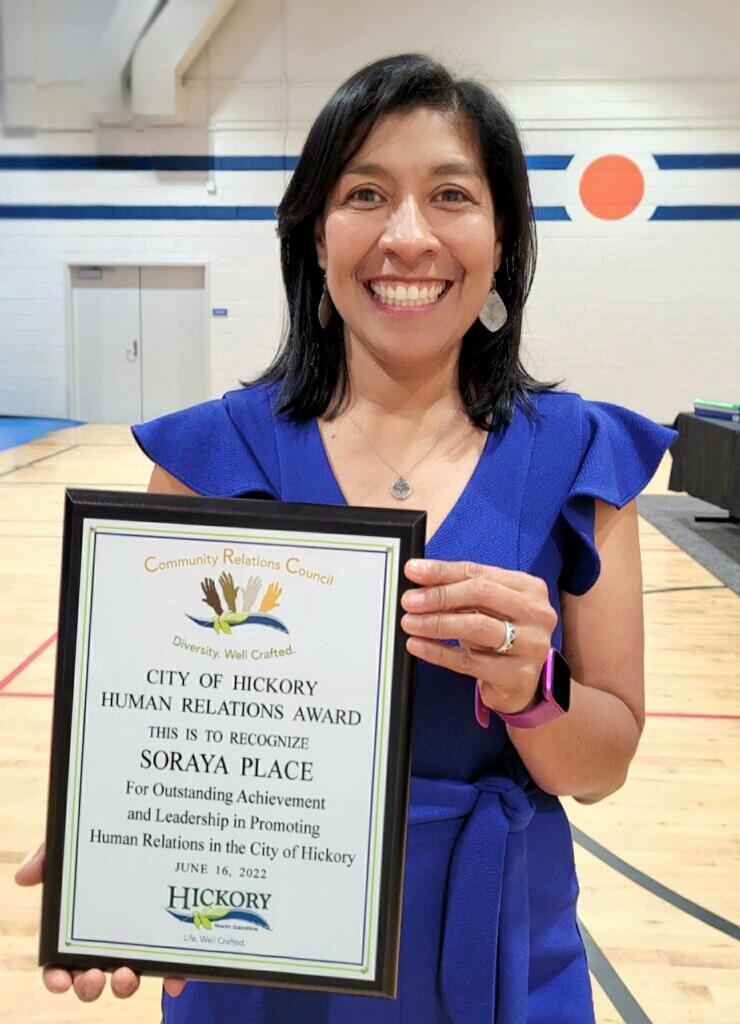 ---
Award-Winning Library Staff: Soraya Valdez Place
Published: June 17, 2022
Congratulations to our very own, Soraya Valdez Place! She is one of the recipients of the 2022 City of Hickory CRC's Human Relations Award (along with our friends at United Arts Council of Catawba County)!
The annual Human Relations Awards are designed to recognize any individual, youth, or organization/business that has gone "above and beyond" in promoting good human relations in the City of Hickory.
"I believe in this work because it supports the future of Catawba County," Soraya shared. "This strengthens the community by equipping students and families with the tools and skills they need to succeed in better opportunities for them, their families, and the community."
Soraya Valdez Place has worked as a community organizer in youth development for over seven and a half years in Catawba County. In 2015, she started working as an adjunct faculty member in the Humanities and Social Sciences College at Lenoir-Rhyne University, where she continues to teach courses in Spanish and Hispanic Culture. That same year, she also began working as a library specialist leading programs in Hispanic community outreach, including the Homework Helpers program. In 2021, Place joined forces with North Carolina State University, St. Stephens High School, and Arndt Middle School, serving as the family liaison in a program called Juntos (meaning "together" in Spanish), which is designed to reduce high school drop-out rates and increase post-graduation educational opportunities for all students with a focus on Hispanic students. She also serves as a very active volunteer in Centro Latino, a non-profit organization that helps scores of Latino youth receive academic assistance and enhanced educational opportunities. Throughout her many roles in the community, Place works to unite families for the enhanced academic and social development of children and integrate them into the greater community of Catawba County and all of the amazing opportunities available.