My Catawba County
This Is How We Roll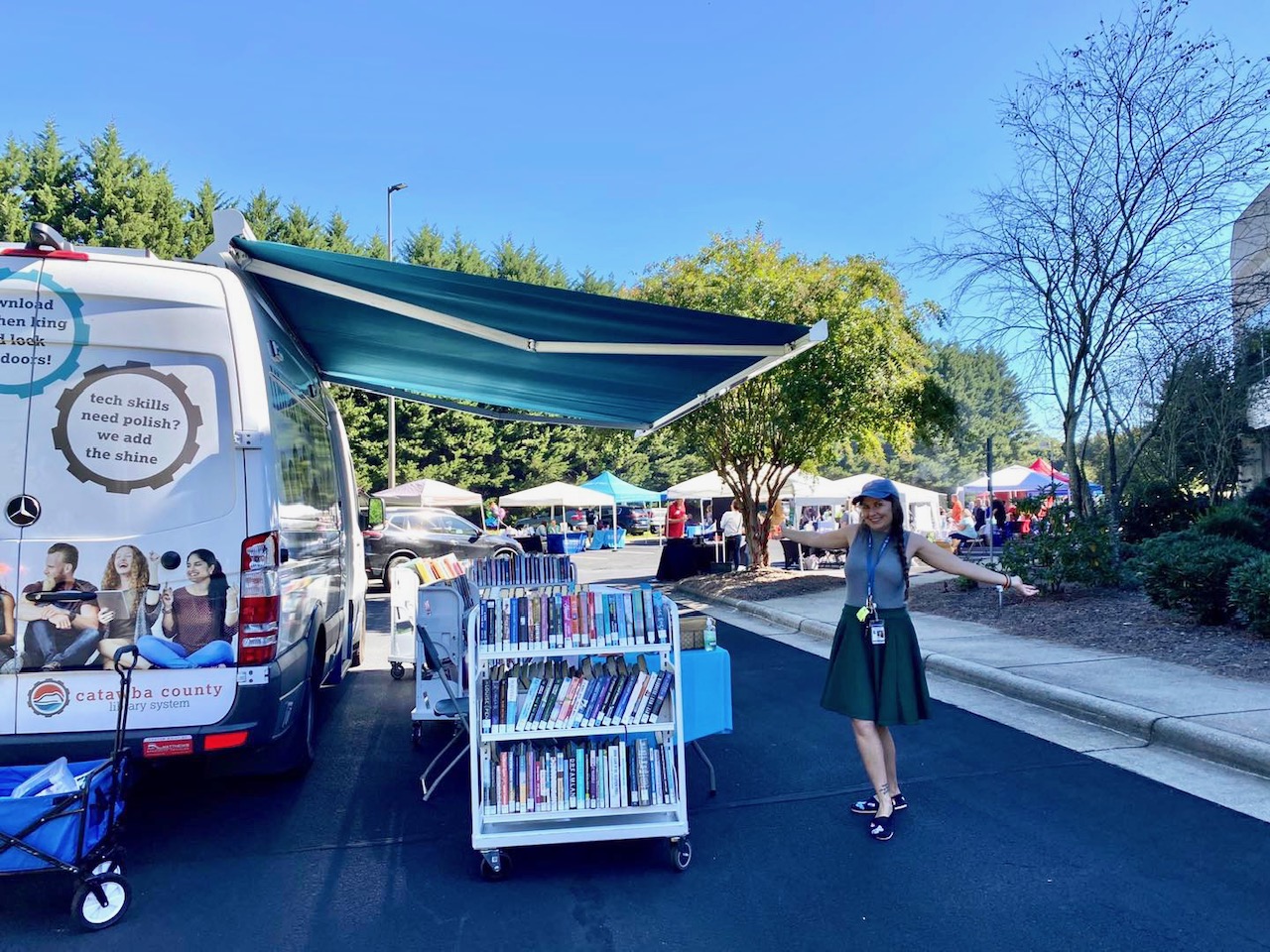 The Catawba County Library System offers way more than books on shelves – as evidenced by its award-winning Library to Go, a pop-up library on wheels. More than a bookmobile, the technology-equipped Library to Go helps ensure access to library resources and programming across the county. We asked Catawba County's Library to Go librarian Sam Woolhiser to share more about this innovative resource.
What is the Library to Go?
The Library to Go is Catawba County's mobile library. It provides all the traditional library services such as checking out books and audiobooks, Wi-Fi and computer access, literacy and learning programming for all ages, storytimes, and a librarian to help with job and career resources, technology questions, research, electronic devices, and recommendations. The Library to Go can be found across the county, popping up at places like farmers' markets, housing developments, parades, community events, nursing homes, schools, and laundromats.
What prompted the Library System to create the Library to Go?
The Catawba County Library System wanted to improve information access and delivery, expanding the capacity of the library to provide services and programming beyond the physical walls of the building. The Library to Go allows the library to bring resources to where people are, including underserved audiences and non-traditional locations, and reduce the barriers caused by the distance a person lives from a library or their lack of transportation.
What kinds of resources can people access on the Library to Go?
People can access most resources they can traditionally find at any of our 7 library locations, including books and audiobooks for all ages, internet access, programs, and electronic devices. Most importantly, the Library to Go offers a specialized librarian to assist with technology, job applications and resume building, recommendations, and downloading our electronic resources for access to free eBooks, music, and movies.
Could you provide some examples of recent Library to Go partnerships in the community?
We visit Cleanwave Laundry in Longview on a monthly basis to promote the Library Locker, sign people up for library cards, check out books, and provide early literacy opportunities. At Conover Nursing and Rehab Center, residents are able to check out books and participate in reminiscing activities and games to reduce isolation, improve memory, lift moods, and win prizes generously donated by community members. Recently, the Library to Go was at the Capitol Christmas Tree stop in downtown Newton with a storytime for the little ones and activities for the whole family to enjoy. Be on the lookout for the Library to Go at the next parade or festival you attend!
How can people request a Library to Go visit to their facility or event?
To request the Library to Go for an event, school, or other community service organization, go to our Library to Go page on the Catawba County website and click on Request a Visit.
Is there anything else you'd like people to know about the Library to Go?
Since the Library to Go was launched, it has reached more than 24,000 people at 461 events, providing positive experiences and empowering resources to those who would not have otherwise visited a library.