My Catawba County
The Other New Year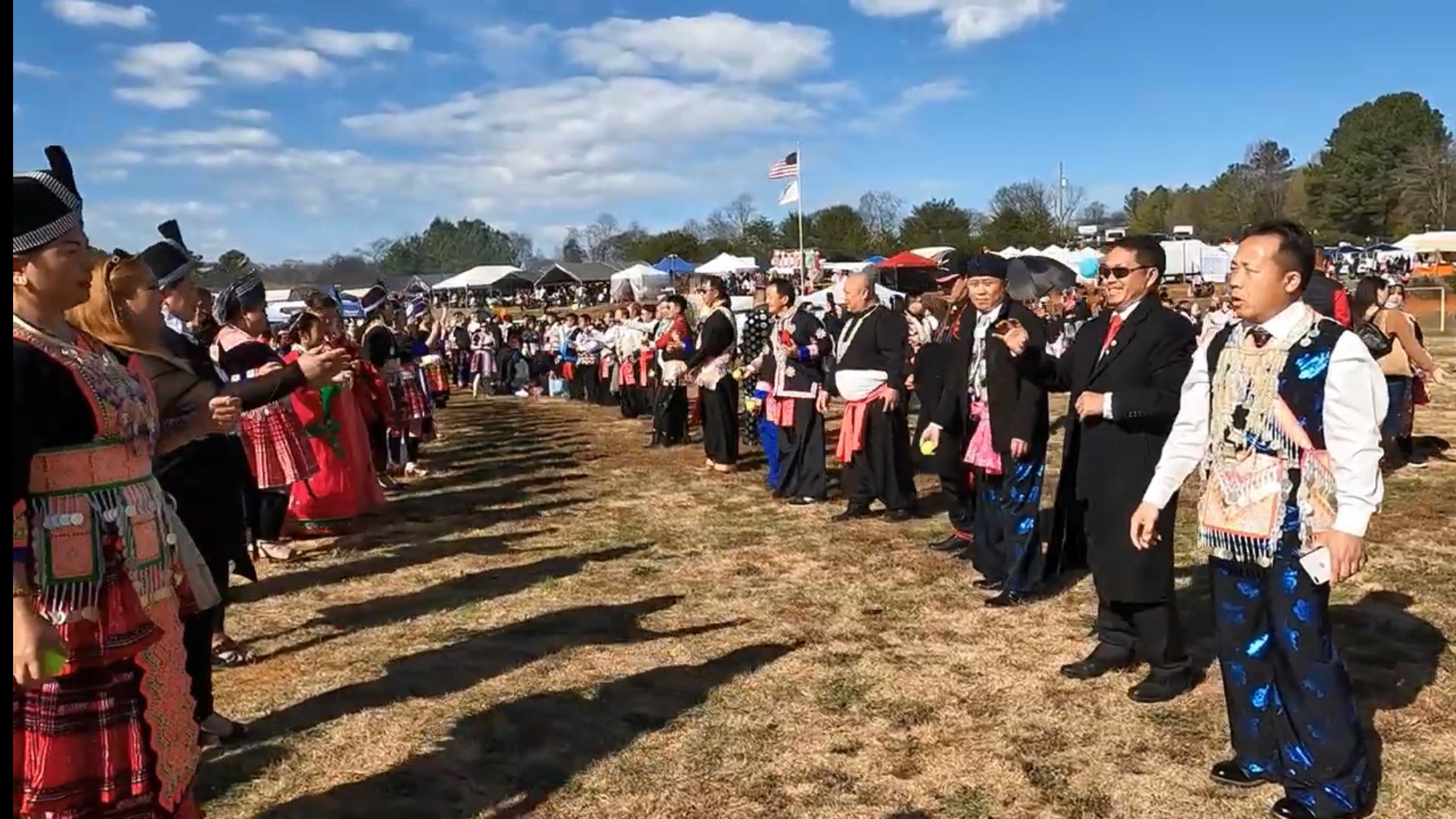 With a new year stretching before us, we thought it would be a great time to learn about the other New Year celebrated in Catawba County: Hmong New Year. Catawba County has a vibrant Hmong community, and each November, families come to Newton from across the Southeast for this traditional four-day celebration. To learn more about Hmong New Year, we reached out to Mai Bee Vue Lor, president of Hmong Southeast Puavpheej, Inc.
What is Hmong New Year?
Hmong New Year, or Hmoob Tsiab Peb Caug, is the main holiday celebrated in the Hmong culture. Traditionally, Hmong New Year commemorates the end of the harvest and celebrates the beginning of a new growing season. Today, people come from all over to be with their families and celebrate the new year together in a big four-day event. Our organization, Hmong Southeast Puavpheej, Inc. (HSP), is a nonprofit representing Hmong communities in North Carolina, South Carolina, Georgia and Florida. We organize the annual Hmong New Year event for the Southeast here in Catawba County.
When and where does the Catawba Valley Hmong New Year celebration take place?
We hold the event at HSP's Cultural Park in Newton. The cultural park represents the home of the Hmong people and is a symbol of Hmong culture. It takes place during the four-day Thanksgiving holiday weekend. Traditionally the event is held over ten days, but it has been shortened to four days in recent times to make it easier for people to participate.
How many people attend the event?
We have a very large attendance every year. About 20,000 people attended last year from all over, even other countries. When you think about that many people coming to celebrate here for four days, staying in hotels and going out to restaurants, the economic impact of this event in Catawba County is very positive.
What are some of the things that take place during the celebration?
Hmong New Year is a time to celebrate our culture. It is also a time to share our culture with others. We have an opening ceremony on the first day, which is filled with cultural activities. As part of the ceremony, elders play traditional instruments and sing folk songs that send away the old year and welcome the new.
Many people attend the event in traditional Hmong New Year's dress representing their Hmong clan. There is music, singing, dance performances and competitions, and a pageant. Our youth do ball-tossing, which is a way for our younger generation to get to know each other and traditionally how they would find their future spouse. They will toss the ball to each other, almost like a competition, and if someone drops the ball, the other person takes something that belongs to them. To get it back, they have to sing a song, and it is like a form of courtship.
There are many sporting events throughout the weekend, including soccer, flag football, volleyball, and a traditional game called top spinner. More than 100 vendors come to sell everything from traditional food, such as sticky rice, Hmong sausage and chicken, to clothing, jewelry, and other cultural items. We also have several sponsors and other community nonprofits who set up booths to share local resources with our community, and we have many volunteers from our local high schools and community college who help out during the event. Students can earn community service hours for volunteering for all of HSP's events for school. This is our way of supporting our communities and students.
Is the Hmong New Year celebration open to the non-Hmong community?
All are welcome to attend the Hmong New Year. Our mission is to help preserve the Hmong cultural traditions and to educate the younger Hmong generation as well as the mainstream community about Hmong culture and values. In 2022, we charged an admission fee of five dollars to help cover our costs.
Is there anything else you would like to add?
HSP is a nonprofit, non-partisan cultural organization. Our vision is to establish a Hmong Cultural Center here to serve as a community facility for cultural activities and educational programs for both the Hmong and mainstream communities. The Center will be located at the Hmong Southeast Puavpheej's Cultural Park. We are currently searching for grants and other support to help us build the center.
We also host a Farmer's Night Market at HSP's Cultural Park on Saturdays and Sundays (1:00 pm-8:00 p.m.) from May 6, 2023 to October 15, 2023. The Farmer's Night Market is open to the public and everyone is welcome. Booth spaces are available on a first come, first serve basis. This is to help out our local community farmers and provide outdoor recreation for our community elders. For more information about HSP, Hmong New Year, the Farmer's Night Market, or contributing to our Cultural Center, visit our website at http://hmongsoutheastpuavpheej.org/ or email HSP atinfo@hmongsoutheastpuavpheej.org.
The photo above shows Hmong elders kicking off the traditional ball-tossing during Hmong New Year opening ceremonies. Curious to see Hmong New Year in action? Check out this video Mai shared with us.https://www.youtube.com/watch?v=tc_Wqv0ap9M