My Catawba County
Read Like a Redhawk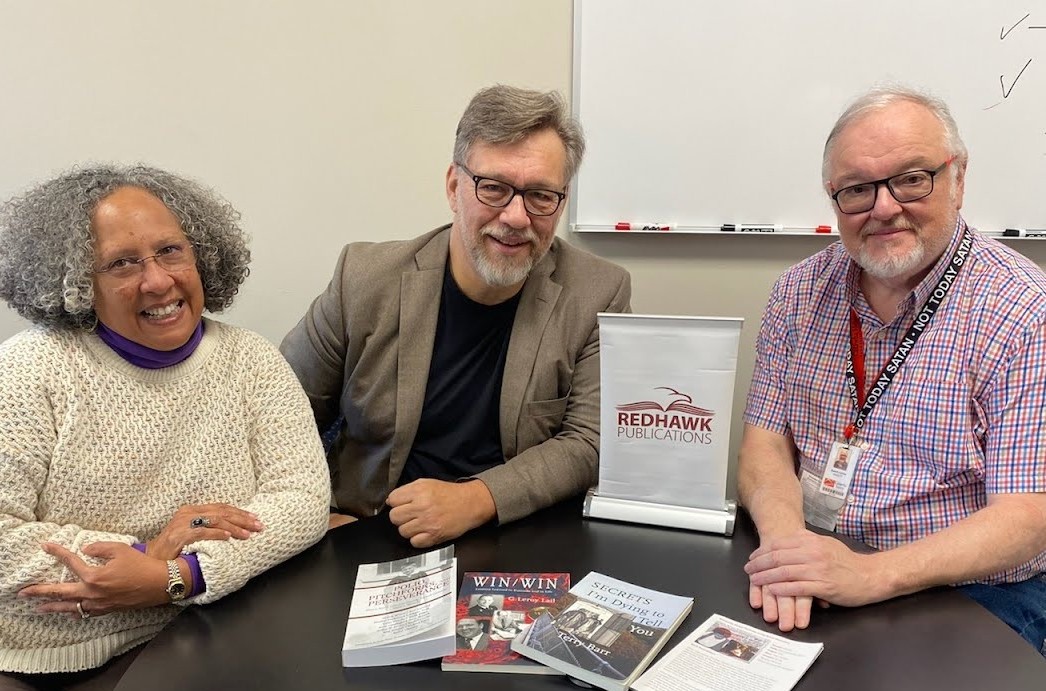 Over the past seven years, Catawba Valley Community College has published nearly 125 books under the banner of Redhawk Publications – one of only three literary presses located in community colleges in the country. So just what does Redhawk Publications publish? We reached out to Redhawk Publications' Acquisition Editor Patricia Thompson to learn more.
What is Redhawk Publications?
Redhawk Publications is a university press associated with Catawba Valley Community College in Hickory, North Carolina. The press's purpose is to publish and distribute artistic fiction and noteworthy non-fiction titles in addition to instructional textbooks and course materials from our service area and beyond.
What does Redhawk Publications publish?
We consider a wide variety of manuscripts for publication.
When and why was Redhawk Publications formed?
Redhawk Publications began in 2016 with its first book, a history entitled, "Polio, Pitchforks, and Perseverance: How a North Carolina County Named Catawba Built a 'Miracle.'" In wanting to publish the book, the founders, Professors Richard Eller and Robert Canipe mentioned to Dr. Hinshaw that, "if we are going to write this, we might as well publish it!" Robert and Richard assured Dr. Hinshaw that they could learn the ins and outs of publishing, and Dr. Hinshaw gave them the nod of approval.
How do you select which works to publish?
While we will consider all genres, we have a beta reader / professional reader process where books are vetted for appropriateness, quality of writing, and marketability. Many beta readers are from our literary focused Advisory Board that meets quarterly.
How many works do you typically publish in a year? How many titles are currently in your catalog?
Over five years in, we have a little over 125 books in our back catalog. We average about 27 as our range, but each year we do more and more. Our total titles for 2022 was 50, which we won't necessarily do again. That was exhilarating but not necessarily sustainable. The sweet spot might be closer to 30 quality titles per year. We continue to learn.
What are some of the more notable titles produced by Redhawk Publications, and what are they about?
Our best seller that was a surprise hit with readers across the country was renowned actor, writer, comedienne, Mary Jo Pehl's memoir about her mother (deceased) entitled, "Dumb, Dumb, Dumb." Mary Jo discovers her mom's index file of book reviews and each amusing review captures something about her mom. MJ lovingly shares with the reader her unique and amusing relationship with her mother.
Most provocative book would be Dr. Jonathan Howard's "We Want Them Infected." Dr. Howard is a NYC practicing physician who saw how the early days of COVID-19 was devastating the City. As the public health community was on high alert and anxious for a vaccine, he quickly saw mistakes made by public officials and gaffes made by the medical community, which ultimately led to misinformation being disbursed on the virus as well as the vaccine. Dr. Howard gets a little soap-boxy, but we permit him his due as he backs up every assertion with exhaustive endnotes. Two hundred pages of endnotes, in fact! It's a book garnishing lots of attention, good and bad. Been interesting to get book sales from all around the world by the medical community.
A fun journey that took awhile to get to print was a novel by author, Austin Allran. Folks know him for his public service, but it surprises them that he is an impeccable author of fiction. Austin is himself surprised with how well it has been received. Fingers crossed, we have entered his book into a North Carolina literature contest. We hope he wins. His book is part mystery, part suspense, with a strong Christian theme. Transformative is the word we use. Each character in this well-thought-out book has their own story of redemption and transformation. "The Legend of The Isle of Cats" was one of our first novels that we published. Novels take longer to work on, and we learned a great deal working with Austin. He was very patient and we couldn't be prouder of what we did to get this book into the wild and into readers' hands.
Finally, we are currently embarking on publishing a new memoir, "Last of the Lions" by noted Civil Rights Movement icon, Dr. Clarence B. Jones. It's a story in itself how this memoir ended up in our lap and not that of the "Big Four" publishing houses in New York. But it ended up with us, indeed! It is our first collaboration with UNC Press for distribution purposes because of its stature and significance. It marks a lot of firsts for our team of three: It's our first hardbound with dusk jacket. It's our first book that has pre-sold in the thousands before even being printed. It's our first book that will be written about in the Washington Post, and an exclusive excerpt placed in the New Yorker magazine. This one will elevate us into some pretty rarified air, and we are curious what that air will smell like! We are equal parts thrilled and shocked, but we welcome the growth! We feel ready.
What does your typical publishing process look like, from your initial contact with an author to a published title?
A prospective author reaches out to us and immediately they are sent a 'submissions guidelines' that lays out the expectation we have for their manuscript. We have strict guidelines that must be met for us to consider a submission. Should the author choose to submit their manuscript, it gets passed on to a few 'beta readers' for their notes. Based on the notes, the book might get a rejection (it is kind and includes the notes), or if the notes are overwhelmingly positive, our staff digs in and gives it a read. As a team, we meet and discuss the merits of the book: Is it well written & engaging? Will there be a market? Many things are discussed. If we sense the author will pitch in and help with sales & distribution, we enter into a contract with the author and create a timeline for publication. Many edits, proofing and layouts happen over the course of months; longer if it is a novel. Eventually, the book comes out, print digitally (print on demand) and we provide some small marketing assistance.
Authors have the bulk of the responsibility to market and sell their own books, as we are minimally staffed, and those that dig deep and exhaust their resources can sell well. Doesn't hurt that we give more in royalties than most publishers because we are a state entity and as such, we are a non-profit.
It's important to note that we are not a vanity press and authors do not pay for publishing. If Redhawk Publications publishes your book, the only time an author will pay us is to purchase their own title at an author discounted rate.
Where can readers find or purchase the titles published by Redhawk Publications?
We have a commerce website that shows all of our titles to date: https://redhawkpublications.com
Is there anything you'd like to add about Redhawk Publications?
There are only three community colleges in the entire country with a literary press. We are one of those three, with the other two being in Texas and California respectively. We are proud of our professional growth as it relates to the publishing industry as we have learned a great deal in a short span of time. Our accomplishments not only put Redhawk Publications and Catawba Valley Community College on the map, but Catawba County, as well.
Redhawk Publications has three full-time staff members and several part-time team members that are invaluable, including Tim Peeler (editor) and Melanie Zimmerman (graphic designer). There is a seven-person advisory board that meets quarterly.
Check out the Redhawk Publications website for a complete listing of our titles.
https://RedhawkPublications.com
Listen to the podcast, #RedPubPod where ever you listen to pods.
Like, Share and Follow Redhawk Publications on Facebook, Instagram and YouTube.
Photo provided by Redhawk Publications. Pictured from left to right:
Patricia Thompson, Acquisitions Editor
Richard Eller, Executive Director
Robert Canipe, Publisher