My Catawba County
Race United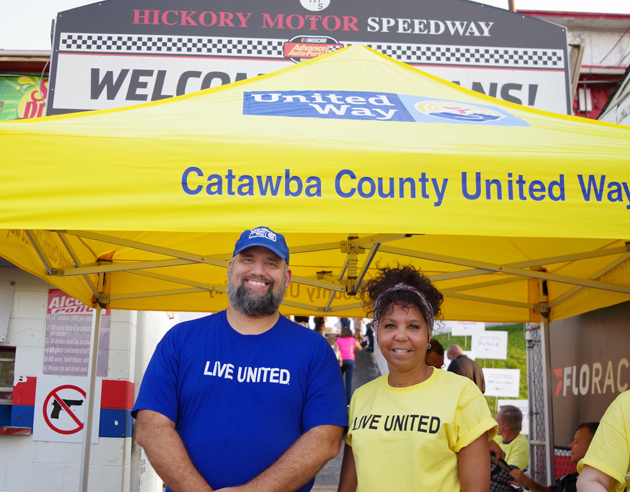 As the Catawba County United Way kicks off its annual fundraising campaign, the community can enjoy Race United – a free night of racing at Hickory Motor Speedway combined with a resource fair demonstrating the United Way's impact on our community. To learn more about the event, we reached out to Catawba County United Way Executive Director Mark Bumgarner.
What is Race United, and when was it created?
Race United began in 2021 out of a conversation with the Hickory Motor Speedway as a way to bring the community together and celebrate the official kick off to our campaign. The event takes place on September 16. Gates open at 5 p.m., and races start at 7 p.m.
What is the purpose of Race United?
While this event is our official kick off to our 2023-2024 campaign (which raises money for our grant cycle investing in the work nonprofits are doing to improve our county), it is also a way for us to bring people together to enjoy a night of free championship racing and connect them with area nonprofits and businesses supporting this work.
What takes place during the event?
Well, racing, for one! But it is so much more. Area no profits are there along with our sponsors with tents and booths set up to provide information to attendees. Throughout the night, we'll highlight different areas that United Way is providing support in order to impact lives in Catawba County. Oh, and there will be fireworks after the race!
Can you share more about the Food Drive you have planned for this year?
We wanted to find a way for the community to enjoy this event and be able to help others while doing so. There is much need for nonperishable food, and this seemed like an easy way to involve the race attendees in helping others. We'll distribute the food to local agencies as well as stock our blessings box with it.
Who will be participating in this year's Resource Fair?
Our corporate sponsors will have booths, as well as any nonprofit who wishes to attend. At this time, we have over 20 booths requested but this is still open so we expect many more.
What has been the community impact of this event?
Race United has been pivotal in creating understanding of who we are in the community. It's been a great way to connect businesses, nonprofits and community members to each other. I think every year this event nuances in ways we don't expect but that reap many rewards. We've been successful in building new relationships with this event we otherwise would not have.
How can the public participate in the event?
Easy Sneezy. Just come watch some racing and bring a can or two of food!!
Is there anything you'd like to add?
We'd still love to welcome new sponsors and nonprofits who would like to join us!