My Catawba County
Notable Names Coming to Town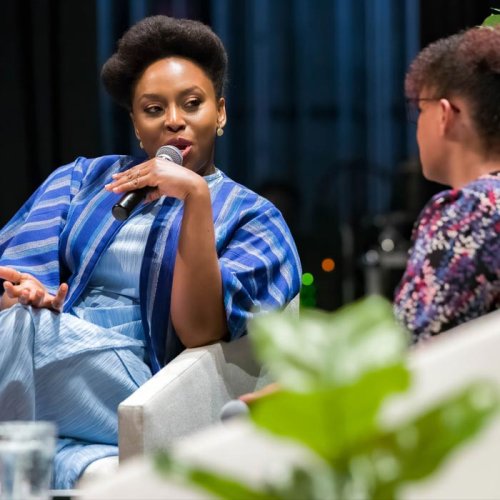 Notable Names Coming to Town
Having hosted an incredible roster of world-renowned authors, poets and playwrights across more than 30 years, Lenoir-Rhyne University's Visiting Writers Series (VWS) has helped put Catawba County on the cultural map. This year's fall season kicks off Sept. 15 with author Michael Eric Dyson. To learn more about the series, which was founded by VWS Director and LRU professor Rand Brandes, we talked to Lisa Hart, VWS consultant. Here's what she had to say.
What is the Visiting Writers Series?
Lenoir-Rhyne University's Visiting Writers Series (VWS) provides outstanding literary arts programming that is free and open to the public.
Every year, VWS invites authors to tell the stories behind their own works in a relaxed environment before university and community audiences. We believe the beauty and power of words help us make sense of the world.
The Visiting Writers Series works to build a community of readers because we believe that a community that reads is a more creative, open and tolerant community. The series is particularly committed to collaborating with local and regional arts and civic organizations as well as non-profits that serve our diverse communities.
When and why did LRU establish the Visiting Writers Series?
n 1988, Rand Brandes invited the first author to Hickory, NC, in what would become the Lenoir-Rhyne University Visiting Writers Series. Many universities bring one or two authors per year or have a festival with several authors, but the LRU VWS is unique because there is a full season every fall and every spring.
Who are some of the writers who have participated in the Series over the years?
To name a few – Frank McCourt, Alice Walker, Jeannette Walls, John Updike, Isabel Wilkerson, Jesmyn Ward, Rebecca Skloot, David Baldacci, Zadie Smith, Min Jin Lee, Neil Gaiman, Alex Kotlowitz, Tommy Orange, Anne Lamott. View a comprehensive list here.
What are some of the more memorable moments or events from the Series?
As part of the VWS, we have an elementary literacy program called The Little Read. Each year, we bring a children's author to Hickory. Before they arrive, LR distributes the author's book to about 2,100 local students. Each year, the program focuses on a different grade level from first grade – 5th grade. The program works with 4 school systems - Catawba Co., Hickory Public, Newton-Conover City & Alexander Co. We have also worked with Hickory Day School. We also partner with the LR School of Education students, who develop the curriculum for The Little Read students and the LR Playmakers who adapt a play from the author's book. The elementary students participate in an arts and literature contest based on a theme from the book. The students come to LR to hear the author speak and to see the play. We also have a festival with the award winners on Saturday. Each year, this is a very special event to watch the children react and learn to love reading at an early age! A memorable event was when we had Mary Pope Osborne here (who wrote the Magic Treehouse books). Kids waited in a very long line to have her sign their books!
How do you decide which writers to invite to the Series?
We have a steering committee comprised of community members who meet regularly with the director to put together a diverse season of authors.
Who will be featured in this year's Series, and where can people find more information about attending Series events?
Michael Eric Dyson, The Footcandle Film Festival (2 winners of the screenwriting festival), Kari Gunter-Seymour, Brenda Peynado, Mariko Tamaki, Tracy K. Smith, Howard Bryant, and Naomi Shihab Nye. More info can be found on our website.