My Catawba County
Making Living Better: Meals on Wheels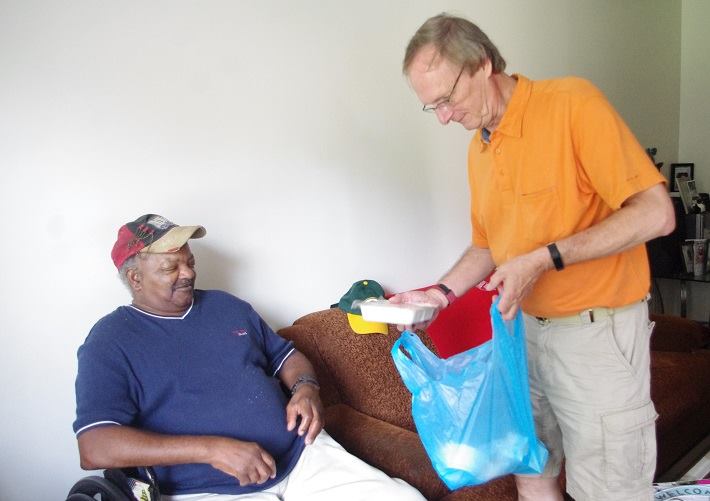 As many families prepare special meals for Thanksgiving this week, we're giving thanks for Meals on Wheels of Catawba County. For nearly 50 years, Meals on Wheels has been delivering meals to homebound seniors across our community. We asked Michele Francois, who oversees the program on behalf of Catawba County Social Services' Senior Nutrition Services division, to share more about the work of the organization and its many volunteers.
What is the mission of Meals on Wheels of Catawba County?
Our mission is to improve seniors' quality of life by providing them the choice to remain at home through the provision of nutritious meals, socialization and community volunteer support. Our volunteers deliver more than a nutritious meal --- they are also providing an important safety check and social connection. For some of our seniors who live alone, the volunteer who delivers a nutritious lunch may be their only human interaction during the day.
How great is the need for Meals on Wheels in our community?
There is a tremendous need for Meals on Wheels in our community. We currently have 30 routes throughout the county delivering Meals on Wheels to over 300 homebound senior residents. With an aging population, we anticipate the demand for our services will continue to grow.
Who is involved in helping to provide Meals on Wheels to residents, and what do they do?
We rely on approximately 700 volunteers to deliver Meals on Wheels each month. Volunteers typically deliver meals once a month. Our volunteers come from a variety of sources including church groups, private businesses, retirees, and public servants (law enforcement, librarians, social workers and community workers to name a few). We also partner with 11 locations throughout the county as distribution points for meals (First Presbyterian Church in Newton, Center United Methodist Church in Catawba, West Hickory Senior Center, First United Methodist Church in Hickory, Maiden Community Center, St. Stephens Lutheran ELCA in Hickory, Marketplace Church in Hickory, Mt. View Baptist Church in Maiden, Mt. Pleasant United Methodist Church in Sherrills Ford and Claremont City Hall).
What happens during a typical Meals on Wheels delivery?
Volunteers pick up the meals at one of our 11 locations at either 10:30 or 11am. They are provided with information and directions to each of the clients on the route for the day. A typical route averages 10-12 clients. The volunteer uses their own vehicle and gas to drive to each of the locations to deliver the meals. After they have delivered the meals, they return the paperwork and delivery bags to the original pick up location. If the client doesn't come to the door as expected, the volunteer calls our office so we can be in contact with the client's emergency contact and determine whether a safety check needs to be made.
How can residents sign up to receive Meals on Wheels?
Residents can submit a referral (for themselves or a loved one) on our website MealsOnWheelsofCatawbaCounty.org or by calling our office at 828-695-5610. Our office hours are 7am-4pm, Monday through Friday.
How can people help support Meals on Wheels?
We always need volunteers to deliver meals. Another meaningful way to support Meals on Wheels is with a financial contribution which can be made online at MealsonWheelsofCatawbaCounty.org or by sending a check payable to Catawba County Social Services with "Meals on Wheels" in the memo line to PO Box 207, Newton NC 28658.