My Catawba County
Ridin' the Loblolly Loop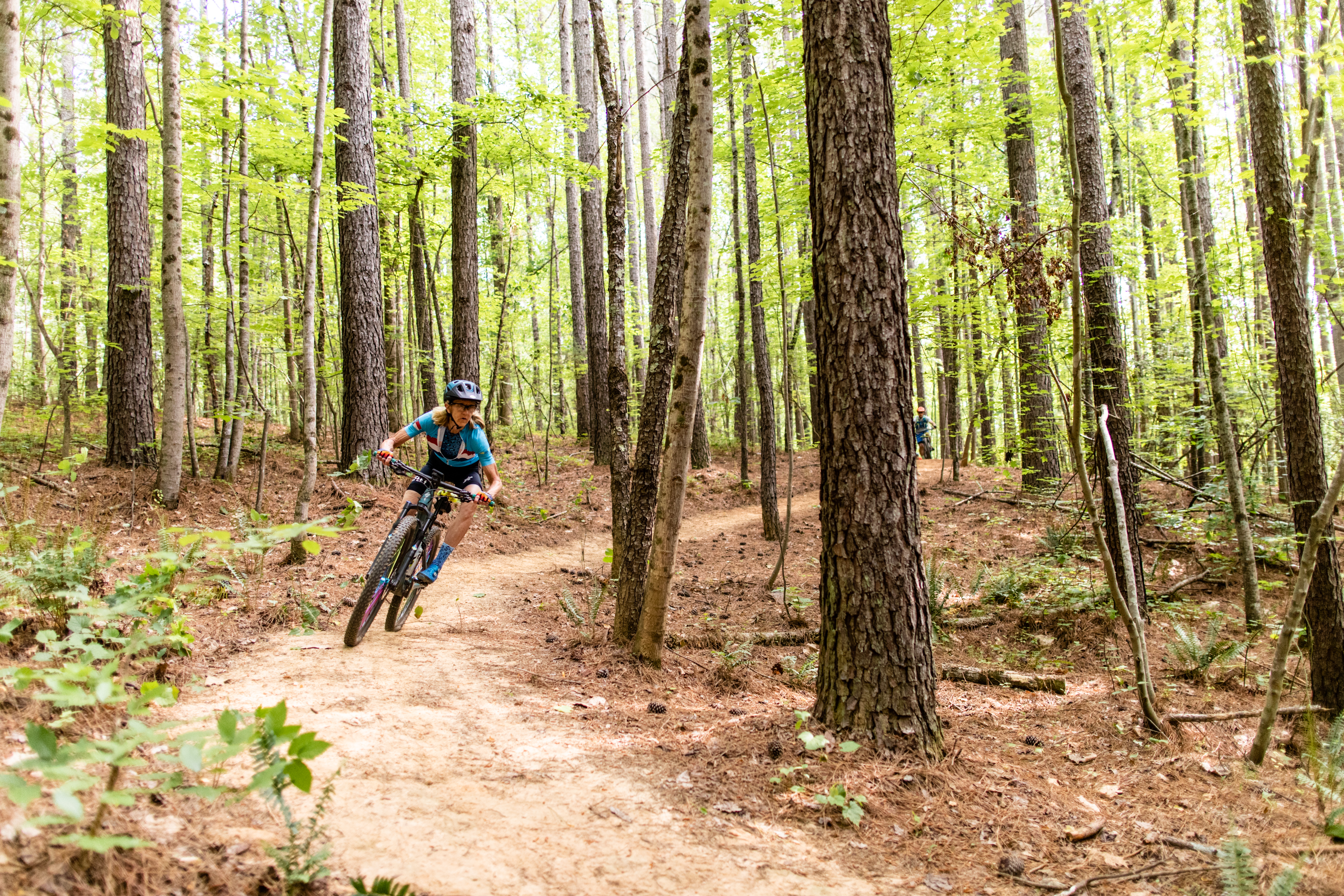 2023 is the Year of the Trail in North Carolina - so why not explore some trails on two wheels, like this fun mountain bike ride on Mountain Creek Park's Loblolly Loop?
Ride Video: https://www.relive.cc/view/vrqDYAKKkwv
Ride Statistics:
Distance: 5.25 miles round-trip
Estimated Time: 1-1.5 hours
Elevation Gain: 350 feet
Difficulty: Beginner to Intermediate
Ride Overview:
Mountain Creek Park, located on the northwestern tip of Lake Norman, features an extensive multi-use trail network designed to optimize mountain biking. This 5.25-mile route begins at the park's pump track and follows a lollypop loop on the south side of the park for a ride that is easy enough for a novice or family with children but challenging enough for an experienced rider. Varied terrain consisting of fast, flowy runs and sections with climbs and technical features makes for a balanced ride with habitat changes and views along the way to keep it interesting. Note: Trails at Mountain Creek Park close to biking and hiking based on wet conditions for both safety and trail conservation. To see current trail status prior to your ride, please visit us on Facebook @CatawbaCountyParksNC, on Instagram @catawbacountyparks, or check out the Tarheel Trailblazers trail status page. You may also call the park office during park operating hours at (828) 465-9645.
Directions to Trailhead:
From Newton, travel south on NC Hwy 16 to Buffalo Shoals Road and turn left. In 0.6 miles, turn right onto Little Mountain Road and proceed 4.8 miles to the entrance of Mountain Creek Park on the left.
From the park entrance, follow the signs for the Lower Trailhead and MTB Skill Area, circling around the roundabout for a left turn up to the lower parking lot and picnic shelter adjacent to the park's pump track.
Ride Description & Details:
From the picnic shelter at the lower trailhead parking area, begin on the bike-only trail to the left of the map stand, Terrells Folly, which loops around the south edge of the pump track before passing through two clearings with a nice view of Anderson Mountain and Little Mountain on the left. During dry periods with little rain, the dirt path through the clearings may not have enough traction for the front tire to maintain grip so be extra careful in these short open sections; the trail becomes hard-packed and shaded as it enters the woods at 0.15 miles. It flows with a nice mix of gentle berms and rolling dips, some quick and steep, so lean back on the bike with knees bent and proper weight distribution to help you coast through smoothly. You'll pass a small rock garden at 0.22 miles that can easily be bypassed on the left if desired and a wooden platform at 0.25 miles on the approach to the junction with Sherrills Pass and Oh Deer!, which is marked with a map stand at 0.29 miles.
Stay straight through the intersection onto Oh Deer!. The gently winding trail is flowy with its soft rollers (with the exception of one significant roller to be mindful of at 0.32 miles) making for a nice warm-up stretch where you can pick up pace. After crossing a service road at 0.54 miles, watch your approach as you come to the steep, downhill berm that awaits just ahead; adjust your speed before going into the berm and let off the brakes through the turn to maintain momentum and traction. Use the same technique for the three berms you encounter in the next 0.3 miles as the route travels on rolling terrain over a smooth, hard-packed surface before ascending gradually and meandering to the junction with Sunday Stroll and Sherrills Pass at 0.91 miles.
Continue straight ahead onto Sherrills Pass following the blue arrowed signs that indicate bike traffic direction. You may also notice a Carolina Thread Trail marker on a tulip poplar tree on your right, designating the trail as part of the regional network of connected greenways, trails and blueways that traverses through 15 counties in North and South Carolina. The Carolina Thread Trail logo inspired by one of the oldest traditional quilt patterns, the Eight-Pointed Star, will be a common sight throughout the ride.
Sherrills Pass twists and turns but stays relatively level through a hardwood forest with an understory of oaks, poplars, beeches, and hickories and a canopy of tall loblolly pines. This section provides a chance to pump your legs to collect speed as you cross an old overgrown service road twice and curve around two berms. Weaving through the trees, you gain speed cruising downhill as you come to an obstructed view of a cove of Lake Norman at 1.18 miles. Resist the temptation to head off-trail here for a clear view as one will present itself at 1.25 miles. Aside from the vista from the park's fishing pier, this is one of the best panoramas within the entire park, making it a great spot to stop briefly to take in the sight.
At 1.31 miles, the trail swings away from the cove, reenters the woods and narrows to singletrack to follow a gully on the right adorned by mountain laurel that blooms from May through June with bell-shaped flowers whose coloring resembles that of peppermint candies. The path is rocky in spots as it comes to the junction with Milk and Honey at a map stand at 1.05 miles. Continue on Sherrills Pass to the right, descending via one switchback to a bridge crossing over a creek at 1.43 miles. Keep a safe speed for the tight curve but try to maintain your momentum for the steep climb that awaits on the other side of the bridge as you ascend steadily to another map stand at the junction with Loblolly Loop at 1.48 miles.
Take a sharp left turn, avoiding the bridge to the right, to begin the Loblolly Loop in a clockwise direction past a "Hiking: Wrong Way" sign. Continuing on Loblolly Loop for the next 2.5 miles, it is apparent that the trail is named for the pine forest it travels through. The scenery is homogenous as the hard clay path winds through a former Duke Energy loblolly pine plantation, with the trees planted in neat, evenly-spaced rows for the purpose of being logged and turned into power poles. The banks are covered with a duff of brown pine needles blanketed in green by Japanese stiltgrass, muscadine vines and Christmas fern; an especially lush spot of such is noticeable at 1.6 miles.
Meandering through the forest on a rolling terrain of only gentle rollers and berms, you can maintain good flow and momentum as you traverse a wooden platform at 1.77 miles, cross a service road at 1.81 miles, and negotiate a rock garden at 2.07 miles while gaining speed on a gradual descent broken up by 4 alternating right-to-left berms. The tree canopy opens a bit at 2.15 miles, lighting up the forest on a sunny day, but the trail remains mostly shaded throughout the ride. Cross a service road again at 2.36 miles and parallel it briefly before it veers away. At 2.49 miles, after a short, steep, left-turning downhill, keep left to stay on Loblolly Loop past the trailhead for Jug Town Jump on the right. This is a favorite section for many riders, descending gradually for a fast and flowy ride with twists and turns that have you winding along and gaining speed as you proceed over two wooden bridges and two wooden platforms and a berm at 2.64 miles. Keep your momentum as a heart-pumping quarter-mile climb begins at around 2.93 miles with a section of noticeable rollers and four switchbacks over a rocky and rooty terrain up to the second junction with Jug Town Jump at 3.16 miles.
Stay to the left to continue straight on Loblolly Loop through a benched-in section with a vertical drop-off on the left. Cross a bridge at 3.27 miles, after which the trail begins a high-speed downhill descent with some steep dips where an expert rider can catch some air. There's an obstructed view of the sandy beaches of Mountain Creek off to the left as you come to a crossing of an old overgrown service road at 3.36 miles; the trail swings to the right away from the creek and travels on rolling terrain, crossing the overgrown service road again at 3.39 miles. Just after a sharp downhill berm to the left at 3.42 miles, pass the junction with Tomtastic as the path curves to the right and hugs the edge of a dry pond filled with river cane and the sound of the amphibians, such as spring peepers and upland chorus frogs, that it is home to. Come to another junction with Tomtastic at 3.51 miles and veer left to go over a rock garden and a few rolling dips as Loblolly Loop comes to an opening and a bridge over Mountain Creek at 3.55 miles. The scenic bridge spans the creek the park is named after, connecting the park's south and north sides; the latter contains nearly 12 additional miles of trails, including all of the park's technical and challenging routes.
Do not cross the bridge; stay straight instead to reenter the woods on the left split of Loblolly Loop and coast downhill before leveling off and meandering on the mostly flat, level path over a few dips. A slight uphill brings you to a wooden platform at 3.65 miles where the other split of Loblolly Loop rejoins on the right; on the other side is the junction with Dutch Oven which goes off to the right. Bear left and prepare for a short, steep hill down to a rock garden in a gully, followed by a steady climb uphill, so manage your speed to safely maintain momentum to help with the climb out. Negotiate another rock garden at 3.74 miles which can be bypassed on the left as you continue on rolling terrain parallel to Mountain Creek and past the second junction with Dutch Oven, followed by a wooden bridge that brings you to the completion of the Loblolly Loop at a junction with Sherrills Pass at a map stand at 3.95 miles. This is a busy junction so watch out for hikers that may be coming toward you as you approach the bridge and intersection.
Bear left to descend steeply downhill on Sherrills Pass to a bridge over a creek at 4 miles; on the other side, the trail climbs via a sharp switchback up to the junction with Milk and Honey at a map stand at 4.04 miles. Take the sharp right onto Milk and Honey, which starts out relatively flat paralleling a gully with a scenic creek flowing below. The surface is a little rocky here with a few significant roots and boulders in the trail as it weaves through the forest with twists, curves, switchbacks, and one service road crossing along the way. Watch for obstacles and pedal in low gear as the slight incline in this section quickly becomes noticeable and potentially wearisome for a youngster or beginner this far into the ride.
At 4.61 miles, the trail crosses the park's main service road and comes to a confusing junction with Sherrills Pass; follow the blue arrows to keep right onto Sherrills Pass which parallels the service road on a flat, hard-packed surface with gentle, rolling dips. Cross the junction with Terrells Folly and Oh Deer! at a map stand at 4.8 miles to proceed on Sherrills Pass ahead to the left next to the map stand. You'll soon come to a wooden platform at 4.83 miles and a Y junction in the trail; take the right fork onto Aww Shucks following signs for the pump track and park office. A recognizable ground cover, fan clubmoss, so named for its branches arranged in fan-like sprays, lays on both sides of the trail in this verdant section. Pick up speed as you flow back and forth through the woods on a slight downhill to a clearing at 5 miles decorated with native wildflowers including Small's ragwort, oxeye daisy, daisy fleabane, black-eyed Susan, clasping bellflower, toadflax, and goldenrod.
On the other side of the clearing, the trail parallels the park's main drive and crosses a gravel road to the overflow parking at 5.09 miles. It reenters the woods to meander on rolling terrain to another clearing full of wildflowers at 5.22 miles on a home stretch back to the pump track and picnic shelter for the completion of the ride at 5.27 miles.
Mileage Breakdown:
0.00 – start of ride on Terrells Folly at lower trailheads at picnic shelter and pump track
0.05 - 0.15 – trail travels through two clearings
0.22 – rock garden
0.25 – wooden platform
0.29 – stay straight through onto Oh Deer! at junction of Terrells Folly, Sherrills Pass and Oh Deer!
0.54 – service road crossing
0.91 – stay straight onto Sherrills Pass at junction of Oh Deer!, Sunday Stroll and Sherrills Pass
0.97 & 1.04 – service road crossings
1.25 – open view of cove of Lake Norman
1.38 – bear right to stay on Sherrills Pass at junction with Milk & Honey
1.43 – wooden bridge
1.48 – turn left onto Loblolly Loop
1.77 – wooden platform
1.81 – service road crossing
2.07 – rock garden
2.18 & 2.36 – service road crossings
2.49 – bear left to stay on Loblolly Loop at junction with Jug Town Jump
2.60 & 2.71 – wooden bridges
2.75 & 2.77 – wooden platforms
3.07 – service road crossing
3.16 – keep left to stay on Loblolly Loop at junction with Jug Town Jump
3.27 – wooden bridge
3.36 & 3.39 – service road crossings
3.43 & 3.51 – junction with Tomtastic
3.55 – keep straight onto left split of Loblolly Loop at bridge over Mountain Creek
3.65 – wooden platform; split of Loblolly Loop rejoins on the right
3.66 – bear left to stay on Loblolly Loop at junction with Dutch Oven
3.67 & 3.74 – rock gardens
3.93 – go straight to stay on Loblolly Loop at junction with Dutch Oven
3.95 – bear left onto Sherrills Pass at completion of Loblolly Loop
4.00 – wooden bridge
4.04 – take sharp left onto Milk & Honey
4.32 & 4.61 – service road crossings
4.62 – take the right split of Sherrills Pass
4.80 – take middle trail to stay on Sherrills Pass at junction with Terrells Folly & Oh Deer!
4.83 – wooden platform; take right fork onto Aww Shucks at Y junction
5.00 - 5.04 – trail travels through clearing under powerline
5.09 – cross gravel road leading to overflow parking
5.22 – travel through clearing
5.27 – end of ride at pump track and shelter
Visitor Reviews:
Fun, well-maintained trails with landscape and habitat changes and views of cove and creeks that keep ride interesting. Shaded and well-balanced with fast, flowy stretches and some sections where you climb. Enjoyable for any level rider; easily ridden on any bike without the need for top of the line equipment. In-person Review
We ride [this route] with our confident 7 year old. He only really struggles on the steep climb to Loblolly. Our 13 year old thinks it's all fun! Facebook Review
Nice trail thru the woods. The trail is shared by bikers and hikers so keep an eye out. Trail goes along a creek for a little bit. Has some ups and downs but nothing too strenuous. AllTrails Review
Absolutely fantastic trail system. Very well marked trails along with map boards at intersections. Each board shows you where you are which is really helpful since there are many miles of trails here. There are also kayak launches and a large playground for kids to play on. Several picnic shelters are also available. But the trail system is the main attraction. Mountain bike wise, it is fast and flowy singletrack with several features scattered throughout. Many trails are bi-directional multi-use, some are bike-only trails. It is clearly marked whether hiking is permitted on the specific trail. Not a lot of roots to contend with. It is pretty much hard packed and fast rolling dirt. My kids are 11 and 8 and could easily handle this trail. The features I encountered were all able to be bypassed. Google Review
Other Hikes in the Series: