My Catawba County
Hundred-Plus Harmony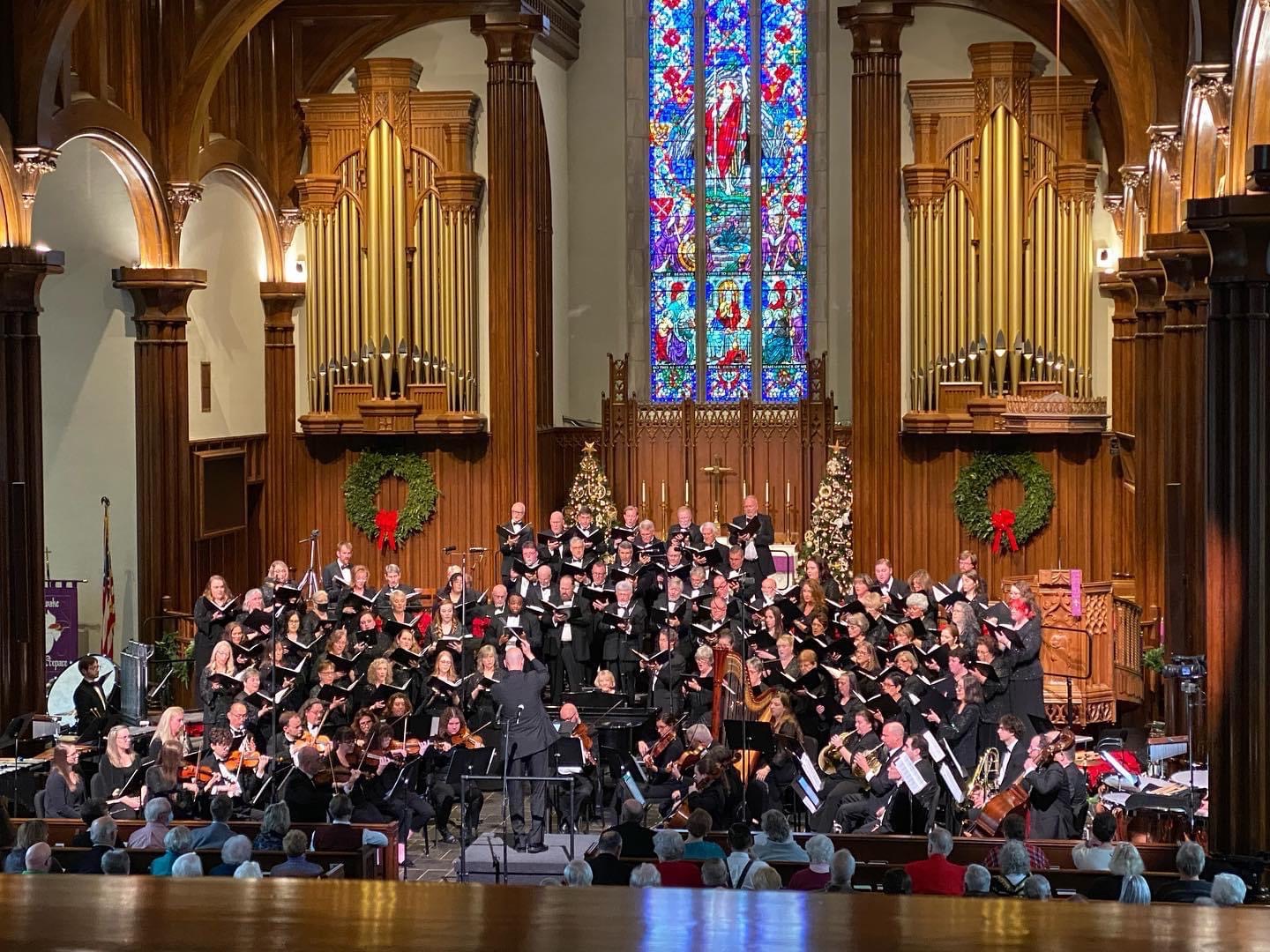 What happens when 100 voices come together to perform a single piece of music? Magic. Founded 45 years ago as an ad hoc group of singers with one signature performance, the Hickory Choral Society (HCS) now features four concert weekends with a diverse array of singers and performances from classical to jazz, holiday to gospel. We asked Dr. Ryan Luhrs, HCS's artistic director and conductor (and associate professor at Lenoir-Rhyne University), to tell us more.
What is the Hickory Choral Society, and when was it founded?
The Hickory Choral Society (HCS) was founded in 1978 by J. Don Coleman. What began as an ad hoc group of singers organized by Coleman to perform Handel's Messiah soon after evolved into a choir that met weekly to rehearse and offer multiple concerts each year.
Who sings with the Hickory Choral Society, and how are they selected?
HCS draws singers of a variety of backgrounds and ages from the Catawba Valley region. To enter the choir, prospective singers are required to audition and demonstrate the musical skills necessary to perform challenging choral repertoire at a high level.
What types of music does HCS perform?
HCS performs a wide variety of music, including sacred and secular repertoire. Some performances feature extended multi-movement choral works, and others focus on shorter compositions. Recent performances included seasonal holiday music, gospel, music from Argentina, Franz Schubert's Mass in G Major, and a newly commissioned setting of Ubi caritas written by Dan Forrest. Speaking of commissions, the choir has a long-standing commitment to inviting composers to write new music. In addition to Dan Forrest, the choir has commissioned new works from English composer Jonathan Willcocks and American jazz pianist David Brubeck.
Upcoming concerts will include a 10th anniversary performance of Dan Forrest's Requiem for the Living this March, an outdoor pops concert in May, and a performance of Alzheimer's Stories by Robert Cohen in October.
What are some of your more notable annual events?
HCS's annual December Christmas concerts help ring in the holiday season for many in our community. In addition to annual fall, spring, and May concerts, the choir offers a Cookies & Carols concert for children in December and youth music camp in late June. The primary fundraising events are the annual membership drive in October-November and the May golf tournament.
Are the singers accompanied by instrumentalists, and if so, why?
Performances are sometimes accompanied by full orchestra, piano, a combination of instruments, or sung without any instrumental accompaniment whatsoever. Why? HCS is committed to singing a wide variety of music, and in doing so, will sing many different types of accompaniment.
What role do you play as conductor?
As artistic director and conductor, it's my role to set the artistic vision for the ensemble, select the repertoire, contract instrumentalists and soloists, and prepare the choir for performances by leading rehearsals.
What are rehearsals like, and how much rehearsal time is needed to prepare for an event?
During the choir's August-May rehearsal season, weekly Monday night rehearsals last two hours. Additional rehearsals occur the week preceding each of the four concert weekends. The choir typically rehearses six to eight weeks for each performance. A typical Monday night rehearsal will begin with a 10-minute vocal and physical warm-up. The remainder of the time is spent rehearsing repertoire for the upcoming concert. Some of that time is spent in sectional rehearsals where a sub-section of the whole choir will work on their part separately. Interim associate conductor Reneé Shatley and piano accompanist Mary Texer play a crucial role in facilitating our weekly rehearsals.
Is there anything you would like to add about the Hickory Choral Society?
The mission of the Hickory Choral Society is to transform lives through performance, support of music education, and the advancement of social harmony in the North Carolina foothills and beyond. There's a lot of teamwork in the organization working to make the choir's mission a reality, including our board of directors, interim business manager Denise Filip, and of course, the 100+ singers who give their time, talent, and spirit to make it all happen!