My Catawba County
HKY4Vets: Building Bridges for Transitioning Military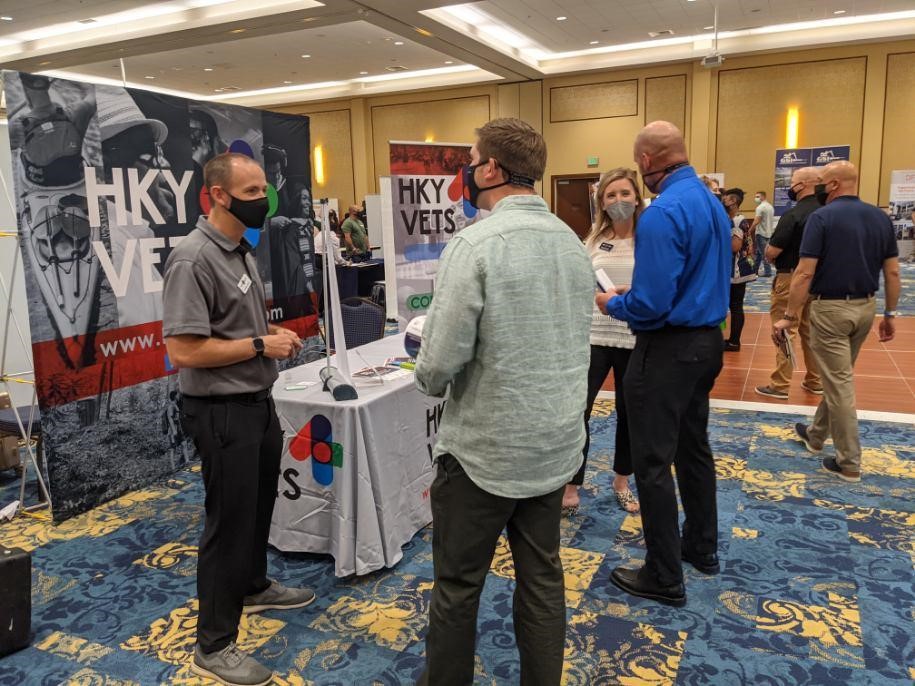 HKY4Vets works to make local employment connections for military service members seeking to transition back into civilian life. The organization was founded in 2016 by Nathan Huret, director of existing industry services for the Catawba County Economic Development Corporation, and Lindsay Keisler, president/CEO of The Chamber. With Veterans Day right around the corner, we asked Nathan (who serves as HKY4Vets' chief engagement officer) to share more about what HKY4Vets does and why this work matters.
What is HKY4Vets?
HKY4Vets assists transitioning military & military families find economic opportunities and resources & make valuable connections in the Hickory Metro of North Carolina. It is a private-public partnership that is supported by the staff and resources of The Chamber of Catawba County and the Catawba County EDC.
What inspired you to start HKY4Vets?
By nature of our "day jobs" at Catawba County EDC and The Chamber of Catawba County, we receive a near-daily "pulse" on the biggest needs of local business. And for years, we have heard continued demands for quantity of talent, but especially quality of talent.
This community has done so much to improve programming that impacts both quantity and quality of talent over the past decade – be it the Catawba Valley Furniture Academy or K-64 – but the urgency and scale require even more solutions and to basically "leave no stone unturned."
We believe the military and military spouse talent can be one of those solutions, checking every box that employers often cite in a desired employee – soft skills (leadership, teamwork), communication, technical capabilities ($100K+ in training courtesy of Uncle Sam) and more. AND it just so happens we are just a mere several hours drive from the over 10,000+ service members and families that exit Fort Bragg, Camp Lejeune, and Seymour Johnson annually looking for the next place to call "home."
When was the project founded, and how has it evolved over time?
It started with a simple job fair we attended at Fort Bragg in Spring 2016. We attended representing the company and several employers, but we had no intentions of this becoming a "thing" – especially now 5 years old.
The experience we had at that job fair was amazing – it truly opened my eyes to the potential and to truly how amazing the men and women (and spouses) of the United States military are today.
I can remember the car ride back from Fort Bragg with Lindsay (and Danny Hearn, the Chamber president at that time), and we all knew we couldn't stop here with just one visit. We didn't know what it truly would entail then, but we never would have imagined it as the mature program it is today.
I think one key to our success – and how we have managed this program – is that we have no issue trying, failing, cancelling or even scaling any idea that works. So the program has evolved EVERY SINGLE YEAR as we have pursued the best set of strategies that satisfies and best benefits our employer partners AND the service members and their families.
That will continue for the foreseeable future and hopefully always - but I am really satisfied with the program as it sits right now. I think we have a great base of support, I think we have some strong strategies for the year, and I think some of our efforts over the years will start to pay some true dividends this year.
What inspired you personally to get involved in this project?
I can tell you that in my job at Catawba County EDC, I am supposed to provide or develop solutions where I see problems. This originally started out that way – I am getting paid to solve this, and I think this particular talent pipeline sounds viable.
But the more I educated myself and started learning of the frustrations and difficulties these individuals and families often face as they are making a major life transition from the military, I saw an unmet need from people that have my utmost respect.
I realized I was in a position to help and make an impact in multiple ways – on the individual, their family, our local companies, and our community. I never served in the Armed Forces, but I saw (and see) this as a way to give back to these people that have served our country and my family.
It is a calling and I have become so passionate about it – I love this mission dearly and the ability to serve those that served. I am so blessed to be able to have a role that mixes passion with purpose.
What is one of your favorite memories from this project?
I think each time we can make an impact on an individual, that becomes my favorite memory…until the next one.
I believe when we started this, I mistakenly had visions we would have hundreds of transitioning military families flocking this way in no time; it would just take time to build that snowball and get it rolling down the hill.
However, I continue to see that the success of HKY4Vets cannot be measured in the sheer quantity of individuals we have helped. I have found, especially over the last 2 years, it may only take one "win" to feel like a success or to make that favorite memory – because the impact of that one win on the recipient can be (and often is) life changing. So, just because it may feel like a "single" to you, it may be a "home run" to someone else. That is one reason we have recently adopted the motto of "one veteran a time" – to not only describe the individual attention we may provide, but also because helping one at a time can be enough to fulfill the organization's mission.