My Catawba County
Feeding the Soul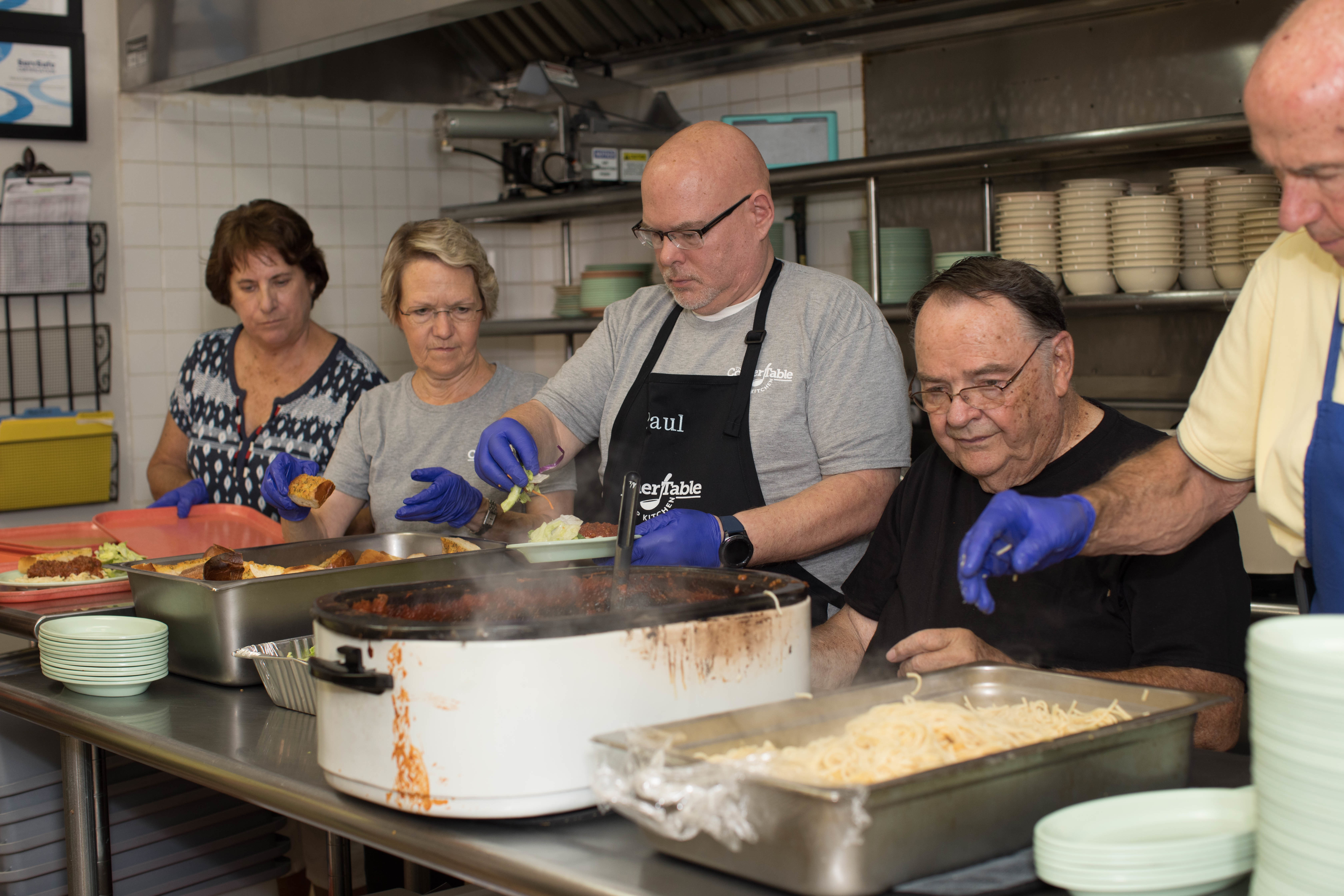 A community's spirit of compassion can often be seen through its local nonprofits – and their many donors and volunteers – who are working to lend a helping hand. In Catawba County, one of those resources is The Corner Table, a nonprofit organization in Newton devoted to providing meals to men, women, and children affected by hunger. What started as a soup kitchen has grown into much, much more, as explained here by The Corner Table's executive director, Summer Jenkins.
What is The Corner Table?
The Corner Table is a nonprofit organization in Catawba County. Our mission is to provide meals with compassion, respect, and dignity to those in our community affected by hunger.
How was The Corner Table started, and how has it continued to grow?
The Corner Table started in 2002 as a soup kitchen serving meals a few days a week. By 2014, the soup kitchen was serving lunch meals Monday-Friday. In 2018, The Corner Table launched the Debbie Payseur Frozen Meal program. In 2019, The Corner Table took the Backpack Program of Catawba County under its umbrella. In 2022, we hired a Community Navigator to assist our guests with resources and connections throughout the community for items such as housing, financial assistance, substance abuse, domestic violence, etc. Our navigator also coordinates health clinics, vaccine clinics, haircuts, etc. In 2022, we also changed our program from a soup kitchen to a community kitchen to be more welcoming.
What services or programs are offered by The Corner Table?
The Corner Table currently has three main feeding programs. We do, however, offer various programs within the main programs.
The Backpack Program serves children in forty-plus local schools who face hunger on the weekends in Catawba and Alexander County. Each week school is in session, over 1,200 children receive a bag full of food.
Our Community Kitchen serves hot meals to those in need five days a week. Guests have the option to dine in or take their meals to go. The Community Kitchen serves lunch Monday-Friday from 11:30AM-12:30PM. We also provide daily breads, pastries, produce and other food items when guests depart. Our Community Navigator is on site from 10AM-1PM each day to assist guests.
Friday To-Go-Bags: Each Friday, we send our guests home at our Community Kitchen with a to-go bag following our daily meal. These bags include a sandwich, potted meat or Vienna sausage, pudding or fruit cup, chips, and other items as available.
The Debbie Payseur Frozen Meal program is intended to spread meals all throughout the community at various locations to reach more people who are battling hunger and going through unfortunate situations. We know that through this program we can reach people who can't reach us. Our frozen meals are available at The Corner Table, Hickory Soup Kitchen, ECCCM and various churches throughout the community. The frozen meals are created with food we cook at our Community Kitchen.
Summer Lunch and Learns: During the summer months, we partner with the Catawba County Library's mobile branch to provide free weekly lunch-and-learn sessions. Everyone is welcome to attend these sessions held at Herman Sipe Road in Conover, near Oak Grove Mobile Home Park, to check out books and educational resources while enjoying a free, healthy meal on-site from our Community Kitchen.
Summer Food Bags: During the summer months when school is out and we are unable to send home food bags with students, we partner with the Catawba County Library System to place bags in every branch in Catawba County. Any family with students in need may visit a local branch and get bags as needed.
How do people access the services or programs provided by The Corner Table?
For the majority of our programs, all individuals need to do is call or visit to request services. Our Community Kitchen and main office are located at 122 N Main Avenue, Newton, NC 28658. For our Backpack Program, referrals can be made by guidance counselors and teachers, but a form to receive bags is also located on our website. We will coordinate with the schools to make sure bags are delivered for that student.
How many guests are served on average by The Corner Table's programs?
In 2022, through our Community Kitchen and frozen meal programs, we served more than 75,000 meals. We saw an average of 208 guests per day and 249 servings per day in 2022. That is a 41% increase over 2021. Our Backpack Program served around 1,200 students weekly, resulting in over 31,000 food bags provided to students in our community in 2022.
Is there anything you would like to add?
Our mission is only possible because of our caring community. Without their financial and in-kind support and their volunteer service, we could not do all we do each day. We are grateful for our partners and supporters who believe in what we do and continue to allow us to make a difference in the lives of many men, women and children in our community through the means of food.