My Catawba County
Economic Development News: Sherrill Furniture Expands in Conover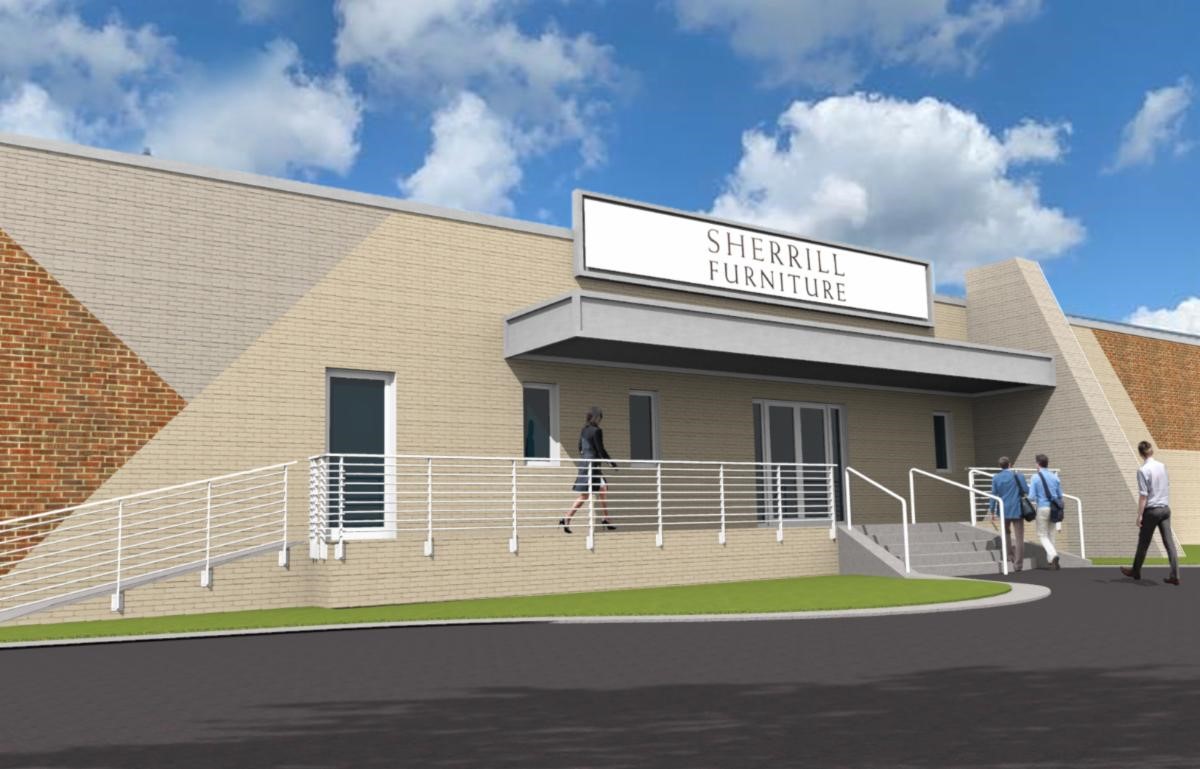 Sherrill Furniture, a manufacturer of high-end, custom upholstery and case goods for the retailer and interior design markets nationwide, plans to expand its manufacturing capabilities in Conover, converting a 140,000 square foot former warehouse into a new facility for custom upholstery production. Over the next three years, Sherrill Furniture plans to create 90 new jobs and invest a minimum of $2.96 million in building improvements and new equipment. Salaries for the new employees will vary by position, but the new positions will meet Catawba County's average annual wage.
Founded in Catawba County in 1945 and managed by Charles Sherrill, the third generation of Sherrill family leadership, the company is doubling down on Buddy Sherrill's legacy of high-quality custom furniture made in the USA. "When my dad and my grandfather began Sherrill Furniture their vision was to run it well enough to provide for their family. But the business grew beyond their expectations, and they gained a bigger vision of providing jobs and a good living for the community around them. And so, they acquired struggling companies along the way and provided thousands of people with the opportunity to work in furniture and raise families here in North Carolina. This is the ideal time to make a sound investment that will secure the future of this company and provide good jobs in our community," says Charles Sherrill.
Sherrill Furniture Company's brands include Sherrill Furniture® upholstery, Hickory White® upholstery and case goods, CTH-Sherrill Occasional® casegoods, contemporary upholstery line Precedent®, motion resource Motioncraft®, Whittemore-Sherrill® leather upholstery, as well as designer lines Mr. & Mrs. Howard®, Lillian August® and Lemieux et Cie™. "Backlogs within the furniture industry are at an all-time high," said Thad Monroe, President, Sherrill Furniture Companies. "We are 100% focused on substantially reducing lead times for our customers and are willing to invest heavily to more quickly fulfill orders of our USA-made products. We appreciate the support and partnership we have received at the state and local levels to ensure this same goal."
"The Sherrill Furnture Companies have a long history in Catawba County and have had a tremendous impact on the community over many decades," said Randy Isenhower, chair, Catawba County Board of Commissioners. "We are glad the company is continuing to grow their presence here. This expansion underscores the very promising days that remain ahead for the furniture industry and the bright opportunities that exist for individuals to join this stable and growing industry."
"We appreciate Sherrill Furniture's continued investment in the City of Conover," said Lee Moritz, mayor, City of Conover. "The growth of the company is a great story to tell, and this specific chapter offers a perfect example of how the City of Conover works with private companies and partners like the North Carolina Department of Commerce to put an underutilized asset back into productive use. In the coming years, it will be wonderful to see the facility filled with nearly 100 employees, producing American-made furniture every day."
"Workforce and talent is obviously of paramount importance to every company right now, but especially Sherrill Furniture and other furniture companies," said Dr. Garrett Hinshaw, chair of the Catawba County Economic Development Corporation and president of Catawba Valley Community College. "To develop solutions and meet the growing needs of companies, industry has to be at the table, engaged with education and training providers and the students themselves. As one of the original investors in the Catawba Valley Furniture Academy, Sherrill Furniture is doing just that as we work together to grow the next generation of upholsterers, sewers and skilled workers."
Interested applicants can apply for immediate openings via the company's hiring website: www.sherrillfurniturecompanies.com/careers.
Local incentives will be considered for the project at upcoming public hearings by the Catawba County Board of Commissioners and Conover City Council.
In addition to the City of Conover and Catawba County, other key partners in the project include the N.C. Department of Commerce, Economic Development Partnership of North Carolina, Catawba County EDC, and the Western Piedmont Council of Governments.
Story and photo provided by the Catawba County Economic Development Corporation.