My Catawba County
Teachers Shop for School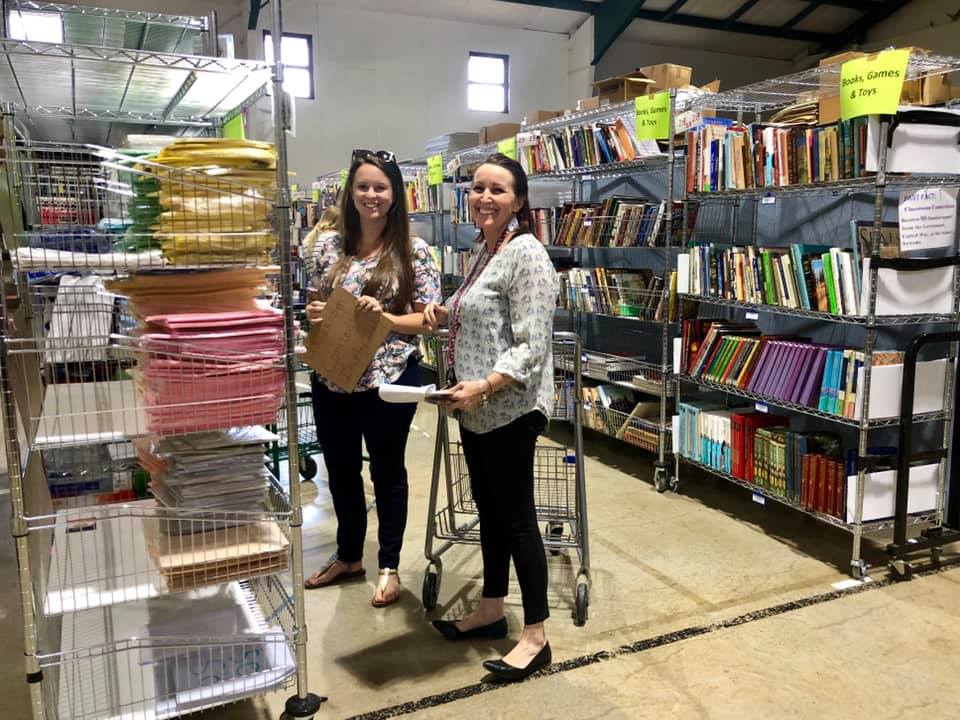 Back-to-school shopping isn't just for kids – it's also for teachers, especially at Classroom Connections. This local nonprofit works to ensure all school age children have the tools they need to succeed in the classroom by inviting teachers to shop for free. Curious to learn more? Check out this helpful information from Classroom Connections Founder & CEO Donald Hicks – or make plans to stop by the Classroom Connections open house on Tuesday, August 16 (see below for details).
What is Classroom Connections, and what is its mission?
Classroom Connections, a 501(c)3 organization affectionately known as "The Teachers' Resource," is a free shopping store for local educators. Students today require many resources to be competitive on a global scale; Classroom Connections is committed to being one of those resources. Our mission is to recognize, promote, and support educational initiatives in preparing students as 21st Century learners. Our vision is to ensure that all school-age children have the tools they need for creativity and success.
We believe that children perform best when they have the materials they need and when they know that adults care. By providing educators with free school supplies for their classrooms, we help each teacher equip their students, show that they believe in them and thus be the hero in their class, one students look up to, cooperate with, and want to learn from.
When and why was Classroom Connections founded?
As a high school teacher in Charlotte, I recognized that many parents were struggling to choose between providing daily meals or school materials for their children. I witnessed firsthand the challenges that low-income families faced and how it directly impacted the performance of the children. Some of my students were homeless or near homeless and many had little or few resources available to them. I used my personal, teacher-salaried funds to buy pencils, paper, notebooks, t-shirts, socks, soap, paper towels, drafting tools and whatever else my students needed to succeed. In my classroom, I made it known that any student needing supplies was welcome to them without judgment. As a result of our "family" classroom, my students improved in their attendance and accomplished at least 90% in academic results.
Based off that experience, I created Classroom Connections in 2014 to offer that same support to teachers in our local area. By making school supplies available at no cost, we can help alleviate the financial burden from the parents as well as the teachers so both can focus on student achievement.
Who does Classroom Connections serve?
Classroom Connections serves all public K-12 educational efforts in the following counties: Alexander, Burke, Caldwell, Catawba, Cleveland, Iredell and Lincoln.
How does Classroom Connections work to accomplish its mission?
Classroom Connections solicits financial support and material donations from local organizations, businesses and individuals. What we don't receive in material donations, we purchase with donated funds to ensure our warehouse is fully stocked with commonly needed supplies.
Public educators are invited to shop for free to equip their classrooms and the students who need them. Teachers at schools with high percentages of free-and-reduced lunch students can shop once a quarter for at least 25 different categories of items.
How has Classroom Connections benefited local educators? Students?
Since its inception, Classroom Connections has given well over $1 million in school supplies to educators across the seven counties we serve. We have since expanded our services during the Covid pandemic in 2020 to provide free tutoring to students online and in person. We have also given back to the community by partnering with like-minded family-oriented organizations to host events such as our Easter Egg Hunt and Trunk-or-Treat.
How can people get involved in helping to support Classroom Connections?
Classroom Connections is always looking for support in the form of volunteers, financial contributions and material donations. Currently, we are in great need of a stand-alone warehouse to store unsorted inventory. To get involved with our organization, please contact Donald Hicks at 828-461-6737 or cc.information@yahoo.com. Donations can also be made online on our website or by mail to 4547 Bethel Church Rd., Hickory NC 28602.
Is there anything else you would like to share about Classroom Connections?
Classroom Connections believes in creating opportunities for persons of all abilities and financial means; we welcome everyone to help us meet the needs of our community. In addition to being "The Teachers' Resource," we are also a training facility for mentally and physically challenged individuals. Likewise, local companies, groups, organizations and persons volunteer with us as part of their team-building exercises, community service efforts and outreach missions. Contact us to see how we can work together to make a positive difference with lasting impact.
EDITOR'S NOTE: **OPEN HOUSE**
On Tuesday, Aug. 16 from 4-6 p.m., Classroom Connections is hosting a public open house to kick-off the Fall 2022 & Spring 2023 school year shopping season. They will offer tours of their shopping and warehouse facility at 4547 Bethel Church Rd. in Hickory and provide information about how people and organizations can help support their mission. This is an informational event for the public and not a shopping opportunity; shopping is scheduled by appointment only. Educators can sign up to shop on the Classroom Connections website.