My Catawba County
5Q: Hal Row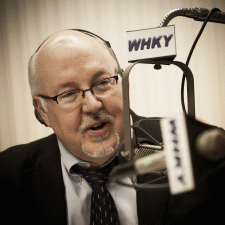 This month's 5Q is with the man behind the microphone – WHKY radio's Hal Row. Host of the ever-popular "First Talk with Hal Row" airing Monday-Friday mornings on WHKY Radio 1290 AM & 102.3 FM, Hal interviews local guests and fills listeners in on what they need to know about our community. This month, we turned the tables and asked Hal what the community needs to know about him. Read on to learn more…
What are the chief responsibilities of your role?
Informing and entertaining our audience, assisting local businesses achieve their advertising and marketing goals, and generating revenue for my employer.
What is your vision for the community, and how are you working to achieve it?
I envision a happy, well-informed community, and am trying to offer different viewpoints from local businesses, non-profits, and government entities to help our community appreciate and embrace our similarities and differences.
What is the most rewarding aspect of what you do, and why?
I have the opportunity to meet new people and learn something new EVERY DAY I come to work. Daily edification! What could be better than that?
On a personal note, what do you love about living in Catawba County?
Four distinct, yet mild seasons.
What is the best advice you've been given, and how has it made a difference for you?
"Be careful what you say, once the words leave your mouth, there is no taking them back." (Mr. Ray Hamlet, a dear friend of our family told me that from his deathbed when I was but a lad, and it has served me well ever since.) "I have often regretted my speech, never my silence."
RAPID FIRE QUESTIONS
First job?
Loading trucks at a furniture factory at age 14
Favorite place in Catawba County?
Any golf course
Hobby?
Golf
Most-watched movie?
The Outlaw Josey Wales or Little Big Man
What are you currently reading?
Willin': The Story of Little Feat by Ben Fong-Torres