Catawba County Employee Spotlight
Liz Smitherman-Lead Permit Center Specialist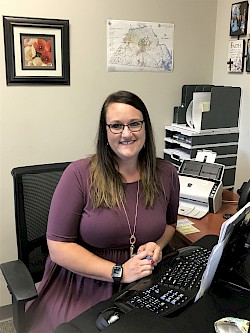 Title: Lead Permit Center Specialist
Department: Permit Center-Utilities and Engineering
How long have you worked with the county?
10 years in November (Started in '09, I left for one year and came running back! Ha.)
What does your job involve? Please describe what you do.
I work in partnership with multiple county departments and the building community of Catawba County to provide information and permits for a variety of developmental projects for residential and commercial construction. The Catawba County Permit Center issues all permits related to building, electrical, mechanical (HVAC/GAS) and plumbing for Catawba County. We issue permits for new construction homes and businesses, as well as accessory buildings, carports, swimming pools, decks and piers. We work closely with nine Planning and Zoning jurisdictions, Environmental Health (well & septic), Public Utilities, Lake Management, Fire Marshal's Office, and multiple NC State Licensing Boards to insure that all local and state codes and regulations are met for the safety of our community.
What do you like most about what you do, and why?
I love the relationships I have built over the last 10 years, not only with my co-workers but the building community. You often spend more time at work than at home and when you build relationships with the people you work with/for you are able to have fun and build lifelong friendships.
Which of the county's core values (doing what's right, doing what matters, doing it together, doing it well) resonates most with you in the work you do, and why?
I have a hard time picking just one because I truly believe the core values are words to live by.
DOING WHAT'S RIGHT - I want to always do what's right by the citizens of the county by empathizing with the situation because you never know what someone is going through.
DOING WHAT MATTERS - It crucial to do what matters because, though our job can be difficult, we do it to help keep the community safe.
DOING IT TOGETHER – I couldn't do my job without the support and teamwork of my peers. This job is very stressful at times and you need a good team behind you.
DOING IT WELL – I strive to be the best person I can be and share my joy with others. In this field there can be a lot of unknowns and I want to provide optimal customer service because most of the time we provide lot of information at once and it is crucial to everyone involved that there is a clear understand of the processes and codes.