Catawba County News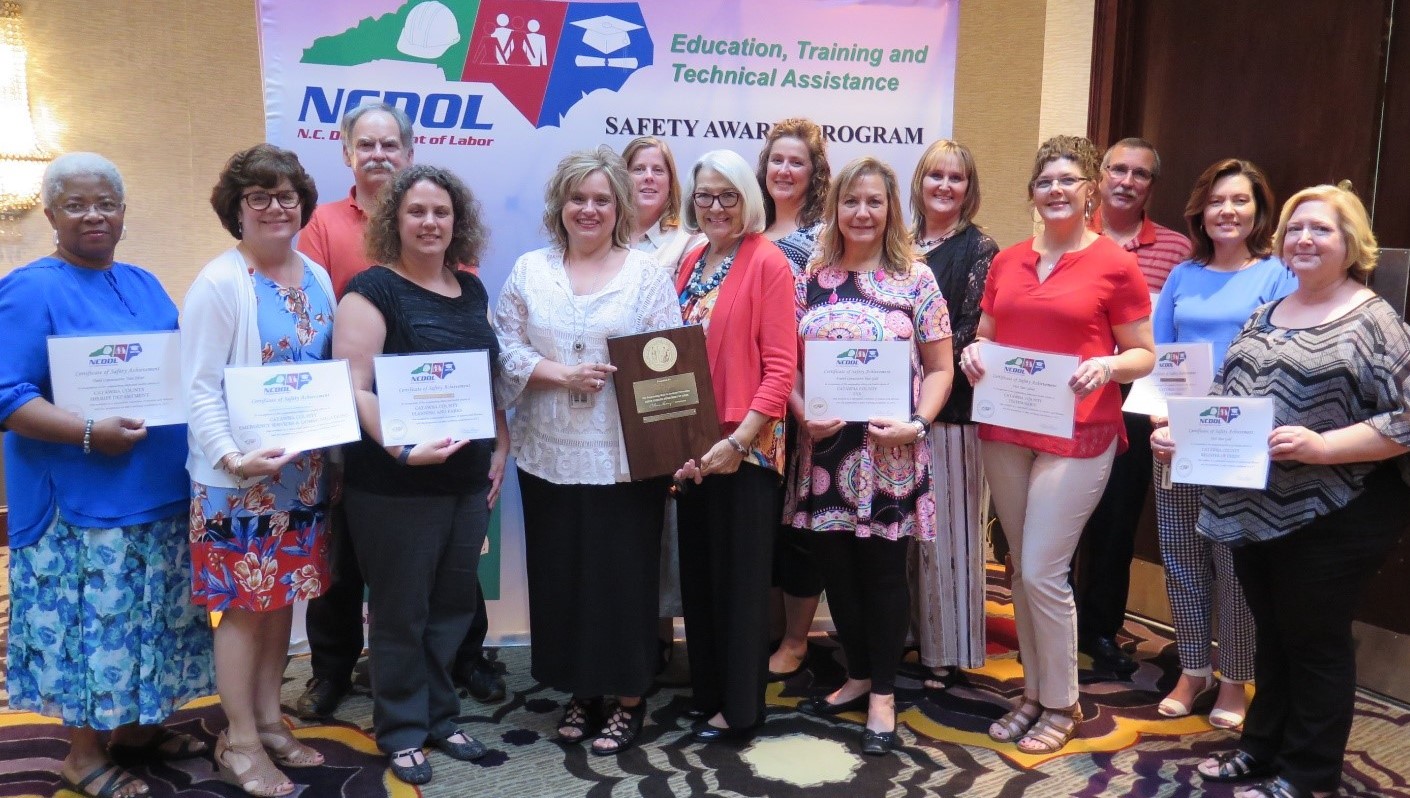 ---
NCDOL Annual Safety Awards Banquet
Published: July 31, 2018
On June 28th Fifteen County Departments were recognized with awards at the 48th Annual Safety Awards Banquet held at the Crown Plaza Hotel in Hickory. These awards are very prestigious and are not easily obtained. I would like to take this time to recognize all the employees that serve on safety committees at the department and County level. They do a wonderful job and many times safety is not their primary job. Let your Safety Officer know how much you appreciate what they do.
Catawba County Safety Committee

 

Chairman

Miriam Powell

Maintenance/ Facilities

Robert Huffman

Risk Management Technician

Sarah Hunt

Technology

Greta Bumgarner

Library

Alex Floyd

County Manager's Office

Avajean Wickes

Social Services

Angie Cales

Emergency Services

Karyn Yaussy

Emergency Medical Services

Hope Whitley

Board of Elections

Marvin Bentley

Landfill

Jeff Sigmon

 

Planning and Parks

Chris Timberlake

 

Sheriff Office

Jason Reid

 

Public Health

Chantae Lail

 

Register of Deeds

Christel East

 

Agriculture Resource Center

Randy Willis

 

Tax

Lori Wray

 

Communications

Randy Frye

 

 
 

 
The following County Departments received awards this year. The Gold Award criteria are based on achieving a rate of days away from work, job transfer or restriction that is at least 50% below the industry rate.  The Silver Award criteria include lost workday cases but not restricted work activity, and the applicant must attain a rate for cases with days away from work that is at least 50% below the industry rate.
Tax 4th Year Gold                                                       Human Resources 8th Year Gold
Social Services 2nd Year Silver                                 Board of Elections 15th Year Gold
Cooperative Extension 8th Year Gold                    County Manager's Office 8th Year Gold
Technology 1st Year Silver                                         Finance 1st Year Gold
Library 2nd Year Gold                                                Planning and Parks 9th Year Gold
Public Health 6th Year Gold                                     Sheriff   3rd Year Silver
Emergency Services 6th Year Silver                        Utilities and Engineering 1st Year Silver
Register of Deeds 1st Year Gold