Catawba County News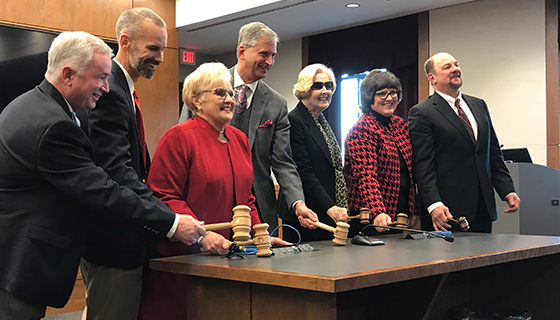 ---
Justice Center Opening
Published: November 16, 2017
MAIN ENTRANCE TO OPEN AT CATAWBA COUNTY JUSTICE CENTER
NEWTON, NC – Starting Monday, November 20, the main entrance to the new Catawba County Justice Center in Newton will be open for public access to the Register of Deeds, Community Corrections, Clerk of Court, Superior and District Court offices, the District Attorney's office, and all courtrooms currently in use.
The temporary public entrance located behind the new building will be closed beginning Monday. These offices will move into new spaces within the Justice Center building over the next 30 days. Directional signage is posted inside the main entrance to assist visitors with finding their locations.
The new Justice Center is located at the Catawba County Government Complex on Business Hwy 321 in Newton. Vehicles may enter the complex from driveways located on Business Hwy 321 and Radio Station Road. Parking for the Justice Center is available in adjacent lots and a parking deck. The bus stop serving the Government Center Complex is being relocated to the front of the Government Center and will be operational November 20. A grand opening of the new facility will be celebrated in early January following completion of all office moves.
Download:
PDF file