Catawba County News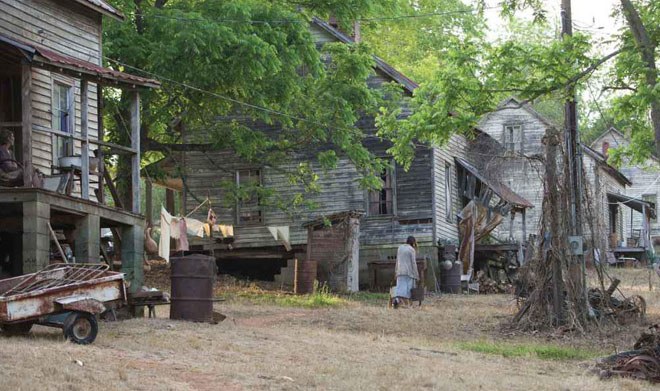 ---
Henry River Mill Village News
Published: November 08, 2018
These days, most people know about the Henry River Mill Village because of its featured setting as District 12 in The Hunger Games movies. In real life, however, the quaint industrial village located near Hildebran was part of North Carolina's prominent textile industry, staying in operation from 1905 until the late 1960s.
In recent years, the Mill Village has gained increased attention from places near and far, and its 2017 sale not only gave it a new lease on life but brought renewed interest to local history and the textile mills that played such a large role in it.
This month, the Library is pleased to welcome a number of folks who maintain a special interest in its viability and are participating in an engaging presentation about the Mill Village and the ongoing efforts to showcase it.
Authors Tim Peeler and Clayton Joe Young will introduce their new book We See What We Want to See: The Henry River Mill Village, and historian-in-residence Richard Eller will join in, along with publisher Robert Canipe and Mill Village owner Calvin Reyes. These men will offer a variety of perspectives on the textile industry and will share book photos, give a poetry reading, and participate in a Q&A session about the Henry River Mill Village in all of its incarnations.
To learn more about this fascinating era of local history, join us Thursday, November 15 at 6 pm at the Main Library in Newton. The new book and several art prints will be available for sale, and proceeds will benefit the Henry River Mill Village Preservation Non-Profit.
---
Participant Bios
Clayton Joe Young, a Rowan County native, is a senior professor in photography at Catawba Valley Community College in Hickory, NC. An award-winning photographer whose work has been seen throughout the United States in solo and juried exhibitions, Young earned a BS in technical photography from Appalachian State University and an MFA in photography from the Savannah College of Art and Design.
Tim Peeler has written 16 books. A past winner of the Jim Harrison Award for contributions to baseball literature, Peeler has also twice been a Casey Award Finalist for baseball book of the year and a finalist for the SIBA award. He lives with his wife Penny in Hickory, NC, where he directs Catawba Valley Community College's academic assistance programs.
Robert Canipe is a teacher, writer, and editor living in Hickory, NC. He teaches English at Catawba Valley Community College, is the editor-in­-chief of Redhawk Publishing (a subsidiary of CVCC), and the owner of Third Lung Press. He previously owned and operated Amazing Heroes in Valley Hills Mall. He earned an MA in English & education from Appalachian State University.
Calvin Reyes, along with his mother and stepfather, Elaine and Michael Namour, owns the Henry River Mill Village property. He helped establish the not-for-profit Henry River Preservation Fund, which focuses on the preservation and continued education of the historic Henry River Mill District, and currently serves as its executive director. Reyes is also a lead training specialist for the consulting firm Winning Matters, and he lives with his wife, Melissa, and three children in Hickory, NC.