Catawba County News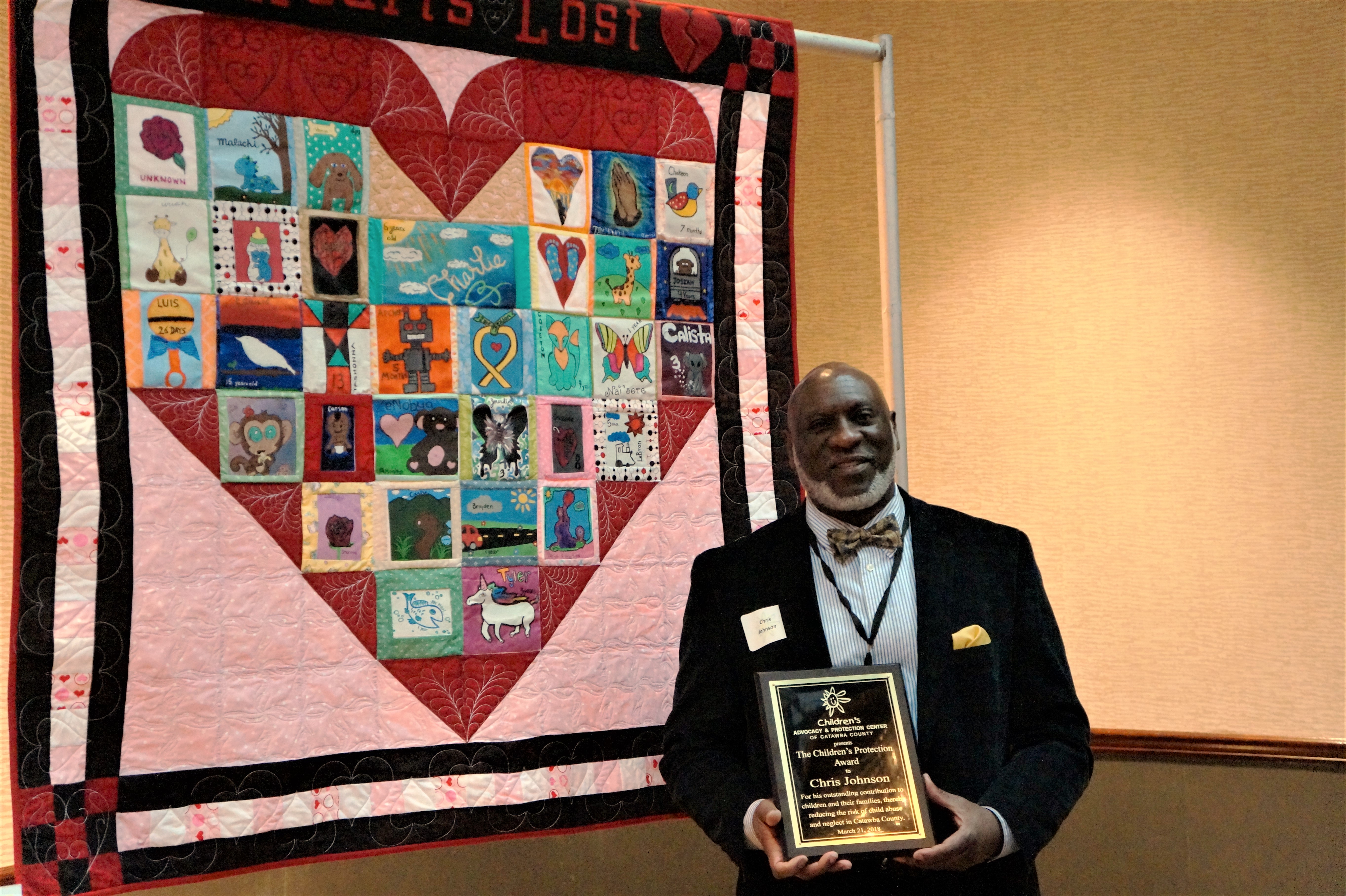 ---
Chris Johnson Receives 2018 Children's Protection Award During Annual Children's Breakfast
Published: March 21, 2018
Chris Johnson was presented with the 2018 Children's Protection Award during the annual Children's Breakfast hosted by the Children's Advocacy and Protection Center (CAPC). The award is presented to an individual, community group, or business that has worked to enhance the quality of family life, thereby reducing the risk of child abuse and neglect in Catawba County.
Johnson is the Assistant Principal at St. Stephens High School. In 2006, he founded Young People of Integrity to help at-risk youth in our community become successful and productive citizens of our society. Chris is driven by a passion to keep kids from living the same life of addiction he experienced. Under Chris' guidance, he has seen students finish high school and college.
Other nominees for the award included the following:
Vonda Krueger - Vonda has been the director for The Sandbox Daycare at Klingspor for 18 years. She provides training opportunities and resources for Positive Parenting, Darkness to Light, Yello Dyno, and other programs. She also provides opportunities for parents to learn how to take care of their children and keep them safe.
Nancy Mitchell - Nancy is the Child Care Director for the Hickory Foundation YMCA Child Development Center. She assumed a leadership role and spearheaded the efforts at the Hickory Foundation YMCA to ensure they are protecting all of the children and families who enjoy the many programs and services offered. She led a team that reviewed current policies and procedures to ensure best practices are being followed to create the safest environment possible for all individuals.
Jeff Schellenberger - Jeff is the Director of Coaching for the Catawba Valley Youth Soccer Association. He oversees more than 400 players each year, in addition to managing the head coaches and providing behind the scenes management of the club. He makes sure each child can play regardless of their circumstances by seeking community sponsors to invest in each child. He also leads the club to give back to the community through fundraisers for the Humane Society, Cooperative Christian Ministries, and other causes.
Previously called the Hancock-Settlemyre Award, the Children's Protection Award was first presented in 1980 to Dr. Millie Hancock Schumpert, a former Hickory physician, and Jean Settlemyre Tashman, former administrator of Frye Regional Medical Center. Both women were in attendance and were recognized for their efforts to promote awareness and prevention of child abuse and neglect, including the establishment of the Task Force on Child Abuse and Neglect in 1975 with Catawba County Social Services. This task force led to the creation of the CAPC.
The breakfast also featured the reveal of a quilt created by Linda Henson as part of an annual CAPC tradition. Themed "Hearts Lost," the quilt will be displayed at county libraries over the coming year as chosen by 2017 Children's Protection Award winner Donald Hicks. To create the quilt, Henson used t-shirts decorated by Hickory High School art students to memorialize children in North Carolina who have lost their lives as a result of abuse or neglect. She and her husband, Dave, have collaborated on the theme and design for each quilt since 2010.
The breakfast's keynote speaker was Penni Huffman, a doctorally-prepared neonatal nurse practitioner and director of Catawba Valley Medical Center's Neonatal Nurseries and Pediatrics. A current CAPC board member, Huffman has more than a decade of experience caring for infants exposed to opiates in utero and a passion for providing exceptional patient care to these children and their families.
The Children's Advocacy and Protection Center is a nonprofit organization that works to prevent and respond to child sexual abuse and serious physical abuse. It coordinates the efforts of Catawba County Social Services, law enforcement, and the District Attorney's Office. For more information, call the center at (828) 465-9296 or visit www.catawbacountycapc.org.