Catawba County News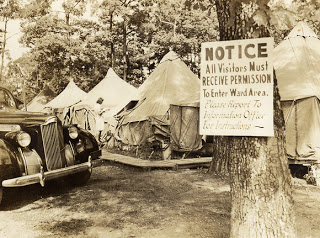 ---
Catch Our Last 'Miracle' Screening
Published: March 27, 2018
Joyce Hostetter's novel, Blue, is a terrific read, capturing the struggles of youth, separation, personal integrity and responsibility, friendships, family, and more. Many people in our community have found enjoyment and insight in the characters and the local story.
For more background on the book, including details of the environment and circumstances of WWII-era Hickory, you won't want to miss the library's upcoming screening of Miracle. This documentary created and produced by Richard Eller, CVCC professor and filmmaker, offers an incredible window into the world that Joyce Hostetter has so beautifully established.
Miracle digs deep into Hickory's polio outbreak of 1944, when hospitals in Charlotte and Gastonia couldn't accommodate Hickory's sudden spate of patients. In response, residents of Catawba County came together with an audacious plan to open their own facility, and within 54 hours' time, their goal had been realized.
This huge volunteer effort laid the figurative foundation for what became known as the Miracle of Hickory, using an existing camp structure, adding in Army tents, and constructing new frame buildings to create the necessary space. Shortly afterwards, the March of Dimes, the American Red Cross, and major medical universities lent their support. In all, more than 500 patients received treatment at the new facility, gaining the attention of Life magazine, which devoted national coverage to the hospital-raising and to the community's can-do spirit.            
If you'd like to get a fascinating history lesson about events in our own backyard, which galvanized the county and continue to illustrate the compassion of our families and neighbors, this is your final chance during the library's community read.
Filmmaker Richard Eller is expected to be available for questions and commentary, along with local polio survivors. It's a can't-miss event!
Join us on Saturday, April 7 at 3 pm at the Main Library in Newton.
In addition, the library is offering two more dates for our Blue Talk & Tears Bottle Craft. These activities invite participants to talk about the book while they design their own tears bottles like the characters Ann Fay and Imogene. The sessions are appropriate for all ages.
Join us on Tuesday, April 10 at 4 pm at the Main Library in Newton and Wednesday, April 11 at 4 pm at the Sherrills Ford-Terrell branch.