Catawba County News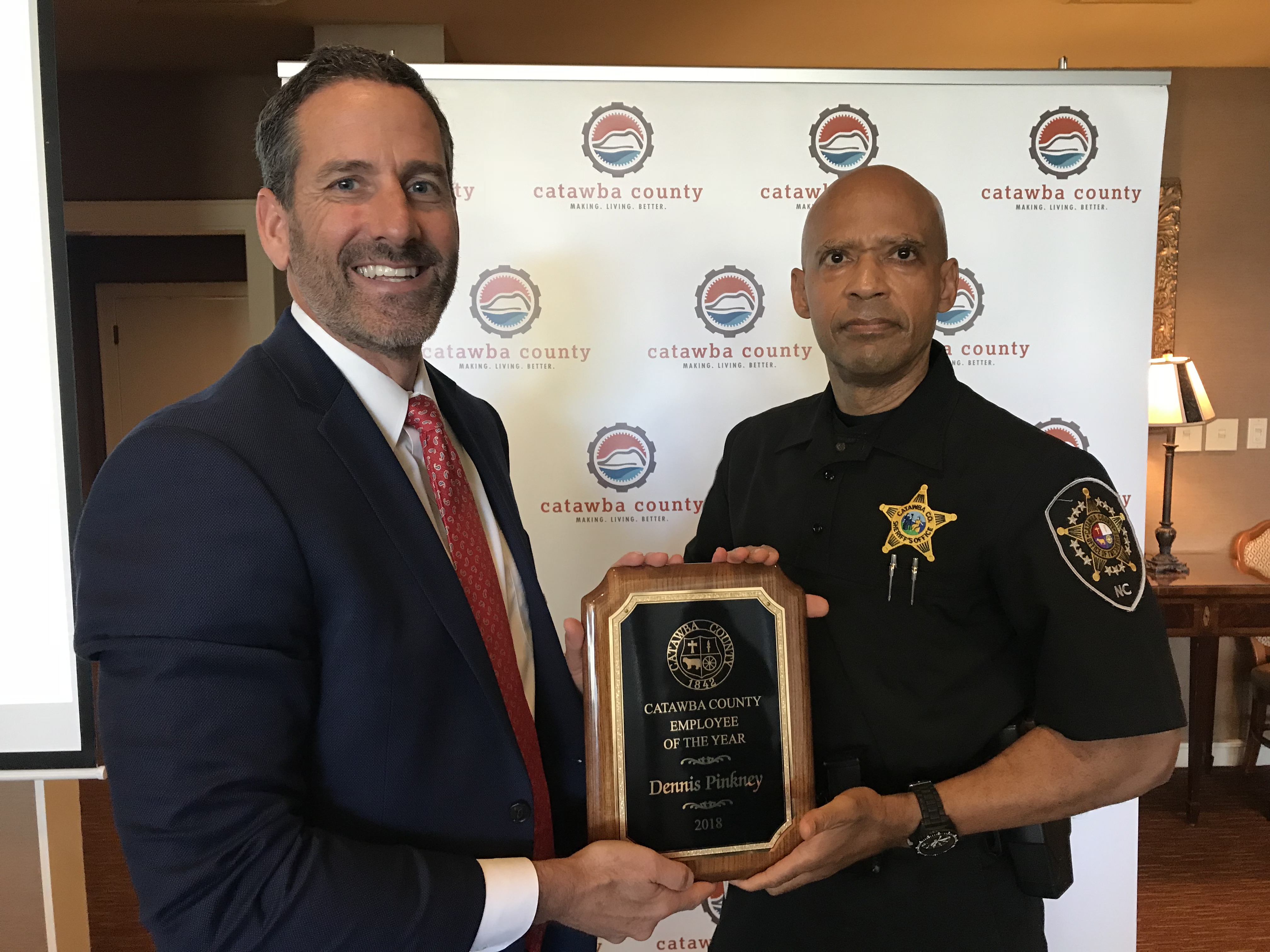 ---
Catawba County Honors Employee of the Year
Published: October 18, 2018
Catawba County Deputy Sheriff Dennis Pinkney has been named Catawba County's 2018 Employee of the Year. Pinkney earned distinction for his day-to-day work assisting the community and staff at Catawba County Social Services.
Pinkney received the honor during the County's Employee Awards luncheon October 18 at Catawba Country Club. He has been employed with Catawba County for five years.
As stated in his nomination, "Deputy Pinkney is an excellent human being. What does that mean? It means when we have a crying young child terrified of him in uniform because of domestic violence in their home, he speaks to them in a soft voice, on their level, offering them a sticker and a smile so they can calmly visit with their parents. He stills a new worker's nerves who just had to deal with a violent father, giving them sound advice on body language, how to arrange a safe visit, and assuring them that he is just around the corner keeping them safe. He sets a perimeter for a runaway so staff can talk the child out of harming themselves. Or, he lets a foster child with an interest in law enforcement see the inside of his patrol car and counsels them on career moves, academic success, and character requirements. Deputy Pinkney exemplifies the highest standard of law enforcement, humanity, and respect."
Seven other employees were nominated for 2018 Catawba County Employee of the Year. They included Jack Chandler, Assistant Utilities & Engineering Director; Diane Crooks, Economic Services Supervisor for Family and Children's Medicaid, Social Services; Tyler Garrison, Library Business Manager; Lt. Michael Isenhour, Sheriff's Office; Donna Mull, 4-H Extension Agent, Catawba County Cooperative Extension; Robert Powers, Social Worker II, Social Services; and Robin Sams, Social Worker Supervisor III for the Child Protective Services Intake/On-Call Unit, Social Services.
The event also featured the presentation of a 2018 Catawba County Team Award, which honored a group of employees whose combined efforts helped improve County services. A panel of judges in the government field independent of Catawba County awarded this year's recognition to the Senior Nutrition Services and GIS Team, which developed a web-based mapping application to streamline and enhance the process of adding a new Meals on Wheels client to the agency's home delivery services. The new application reduced the process from 90 minutes to five minutes and enhanced delivery services with route optimization and mobile voice navigation components. Team members included Senior Nutrition Services social workers Debbie Helton and Vickie Redden, Senior Nutrition Services administrative assistants Katie Morrison and Thu Ngo, and GIS software systems engineer Arjun Dongre.
Two other teams nominated for the award are the Cure MD Implementation Team, comprised of employees from Catawba County Public Health and Catawba County Information Technology, and Social Services' CQI Team.