Catawba County Intern Spotlight
Dawson Spencer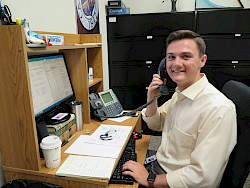 Intern – Co Mgr (Legal)
Political Science/Criminal Justice – Western Carolina University
What is your favorite experience from your internship?
Calling every County Attorney and DSS Attorney within the state for a contact list for Debra Bechtel because it allowed me to talk to a diverse group of people in the state that I would not have had a chance to talk to if it wasn't for this internship or talking about the genres of music with my office-mate, Amanda Bentley.
How did your mentor/supervisor inspire or help you to grow during your internship?
When you ask many attorneys about law school and practicing, they will tell you to "be a dentist" but Debra and Jodi (Stewart) are both truly full of inspiring passion and dedication for not only law but for this Catawba County as well.
What do you like to do in Catawba County?
Going to the park and hiking with my friends and my dog when I come back from college.