Catawba County Intern Spotlight
TeCarla Ikard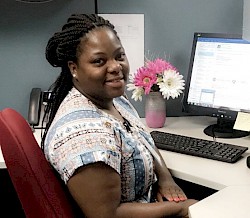 Intern – Public Health
Masters of Public Health – Lenoir Rhyne University
What is your favorite experience or project from your internship?
My favorite experience was going out in the community, helping make a difference.
How did your mentor/supervisor inspire or help you to grow during your internship?
My supervisor helped me grow by providing me with other tasks from different departments related to my internship and the overall wellness of the community. I was able to acquire new knowledge in different areas of public health.
What do you like to do in Catawba County?
I like to go to the lake or go shopping.