Catawba County Employee Spotlight
Suzanne Baer-Public Health School Nurse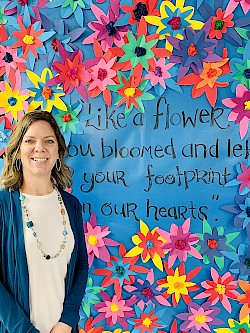 Department: Public Health

How long have you worked with the county? 6 years

What does your job involve? Please describe what you do.
I serve Longview Elementary and Southwest Primary in the Hickory Public Schools district. My primary role as a school nurse is to support student learning. Healthy children learn better. I work to eliminate chronic health conditions as a barrier to achieving success in school which is accomplished through cooperation between the school staff, physician, parents, student and school nurse. Services that I provide to promote student and staff health and safety include: communicable disease control, health screenings and referrals, immunization compliance, referrals for health problems, health education and counseling, community resource information, management of children with special needs and chronic health problems, case management, and illness/injury care and consultation. This past year has certainly been a different and challenging time as the focus has been on the response to Covid-19 in Catawba County, including our school communities. School nurses have worked in respiratory clinics, phone triage, case interviews, testing, and administering Covid-19 vaccines.

What do you like most about what you do, and why?
I love connecting families to services. Catawba County has a wealth of available resources from primary care providers, vision, dental, immunizations, counseling, and food assistance to name a few. I especially enjoy assisting families with vision services. Children need to see in order to learn and therefore succeed in school. I truly enjoy helping others meet their specific needs.

Which one of the county's core values (doing what's right, doing what matters, doing it together, doing it well) resonates most with you in the work you do, and why?
The county core value that resonates the most with me is doing what matters. As a school nurse, I get to be on the front line to promote, protect, and improve the health of our community. I believe that teaching children healthy habits and prevention early can build a strong foundation to a lifelong commitment to health and can prevent chronic diseases.