Catawba County Employee Spotlight
Shawn Cruse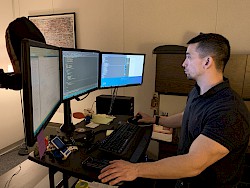 Title: Application Development Administrator
Department: Technology

How long have you worked with the county?
5yrs & 7months

What does your job involve? Please describe what you do.
I supervise a team of seven application developers and analysts. As a team, we provide support to around 40 county-wide applications. My day to day duties include project management, writing/reviewing code for various projects and providing direction to staff. It is a very fast-paced environment where tasks can change at any given time.

What do you like most about what you do, and why?
The thing I like most about working for Catawba County is the fast-paced work environment. Things are always changing and IT is usually on the front line to provide necessary solutions to manage the data and processes.

Which of the county's core values (doing what's right, doing what matters, doing it together, doing it well) resonates most with you in the work you do, and why?
I think doing what matters resonates with me the most because as public servants, it is our duty to be good stewards of taxpayer money. With my team, we are able to build many of the web applications that staff and citizens use, in-house. This allows us to create custom tailored applications to whatever need it may be. This is a benefit because we save money on implementation, licensing and yearly fees that would be incurred when using a 3rd party provider.