Catawba County Employee Spotlight
Martia Vang-HR Specialist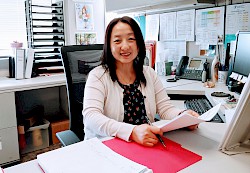 Department: Human Resources
How long have you worked with the county? 14 years and 8 months
What does your job involve? Please describe what you do.
My job involves providing customer service to the 1000+ employees of Catawba County by explaining benefits, cost and coverage that are available to them as well as explaining the policy and process for FMLA and Short Term Disability requests. My position also involves keying in new employees' information, benefits, status changes and job changes.
What do you like most about what you do, and why?
What I enjoy most is being able to help and assist our county employees and ensure they receive the services and answers they need – giving them peace of mind.
Which of the county's core values (doing what's right, doing what matters, doing it together, doing it well) resonates most with you in the work you do, and why?
The county's core value that resonates most with the work I do is "doing it well" as my job involves keying employees' information, benefits and pay, explaining benefits, cost, and FMLA/STD procedures. By "doing it well," it is my responsibility to key the data information effectively and accurately and providing good customer service to our county employees and/or citizens.