Catawba County Employee Spotlight
Lina Lemus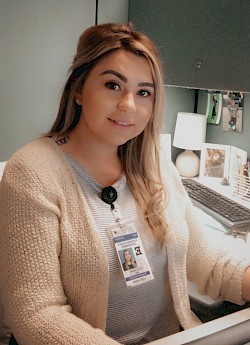 Title: Program Assistant
Department: Public Health WIC
How long have you worked with the county?
December will be 2 years.
What does your job involve? Please describe what you do.
The purpose of my job is to interview existing WIC participants and new WIC applicants to determine their eligibility to participate in the WIC program. I gather the required information to determine the participant/applicant's eligibility, complete all necessary lab duties, and educate WIC participants about the program and use of benefits for WIC approved foods for all WIC categories.
What do you like most about what you do, and why?
I enjoy building a relationship with each participant, watching them grow, and helping them feel like they matter. I love to be able to help all WIC families by helping them understand how to use and shop for their WIC approved foods; and in difficult situations, being the link in the bridge to connect families in need to multiple services and programs they may benefit from within the community.
Which of the county's core values (doing what's right, doing what matters, doing it together, doing it well) resonates most with you in the work you do, and why?
Doing what matters. It is important to me to be able to help assist families in making sure they have access to programs within our community, accurate nutrition education, and healthy foods for their families so their children's health is optimized and they are able grow and develop appropriately.