Catawba County Employee Spotlight
Kurt Reid-Library Assistant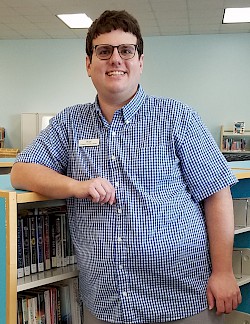 Title: Library Assistant
Department: Library (Newton Branch)
How long have you worked with the county?
5 years
What does your job involve? Please describe what you do.
As a Library Assistant, I help process the library's books, DVDs, and other materials to the Catawba County patrons. I work at the Circulation Desk and patrons come to me and my co-workers, to get assistance in looking for items they cannot find; suggestions for books and DVDs; and also help with any problems they have with the library computers. Also, I compile the library's online rating system which showcases the books and DVDs that our patrons and staff members like the most.
What do you like most about what you do, and why?
What I like most is that I get to serve people who need help in the many different areas of the library. I really enjoy the variety in my job since one patron may need help in the computer lab, another patron may be looking for book and DVD recommendations, and still another may be doing an online search. Some of my unique requests from patrons have been to help find haunted homes in the United States and accessing an e-mail that had not been used in five years. Once when checking the book drop, I found a toy chainsaw and no one has come to claim it. Most of all, I really like seeing the excitement on a patron's face when his or her problem has been solved. It gives me a sense of accomplishment to know I helped someone to the best of my ability.
Which of the county's core values (doing what's right, doing what matters, doing it together, doing it well) resonates most with you in the work you do, and why?
Doing what matters is the core value that resonates most with me because when I help someone who has a problem or issue, I know that I may be doing something that can change a life. When I help someone search for a job on the computer and develop a resume for that job, I know that if the patron obtains the job, not only is the patron's life changed, but there is also a change for his or her family. This could have lifelong implications for generations. My family raised me to believe that one must always do what matters because it doesn't just help one person, it can help the world.