Catawba County Employee Spotlight
Jodie Yoder-Lead 911 Telecommunicator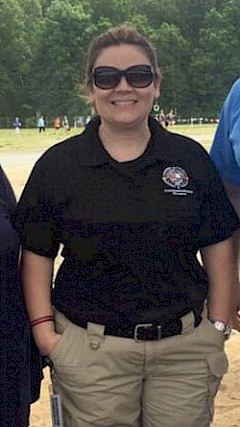 Title: Lead 911 Telecommunicator/Certified Training Officer
Department: Emergency Services/ 9-1-1
How long have you worked with the county?
13 years
What does your job involve? Please describe what you do.
In Catawba County, telecommunicators work in a PSAP (public safety answering point). All 9-1-1 calls are routed in to the 9-1-1 center where jurisdiction and the appropriate response are determined. This can be difficult with callers who are upset or don't know their location. We then question the caller with the appropriate questions to ascertain their need and begin a response. Keeping the caller calm and focused can prove difficult. We deal with multiple calls at the same time so multi-tasking is imperative. Not only do all 9-1-1 calls come to us, but all administrative calls do as well. I have given CPR instructions to a mother of a child not breathing, listened to a wife scream that her husband has died, talked to neighbors who are watching the house across the street burn down, and taken numerous accidental 911 dials. The range of calls is endless. I never know what I'm going to deal with when I get to work and that makes every day interesting. Being the first first responders and helping the caller until responders can make it to the scene is critical.
What do you like most about what you do, and why?
I love helping people. It's cliché, but it is why I love what I do. Going home every day knowing I made a difference in someone's life is rewarding. I have a great passion for helping those in need and when someone calls 9-1-1, they are likely having one of the worst days of their lives. It's my responsibility make sure they receive the help they need and to sustain them until someone can arrive.
Which of the county's core values (doing what's right, doing what matters, doing it together, doing it well) resonates most with you in the work you do, and why?
The core value that resonates the most with me is doing it well. As a 911 telecommunicator, doing it well matters. There are no "off days." Every day I walk in and put a headset on is another day someone is going to call in need of help. Doing the job well means being attentive, great customer service, quick dispatch times and following through to ensure everyone arrived.