Catawba County Employee Spotlight
Audrey Garcia-Eligibility Specialist II (Adult Medicaid)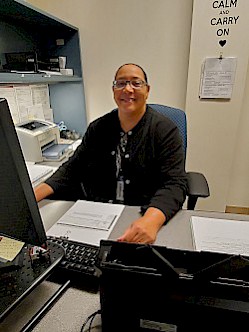 Title: Eligibility Specialist II, Adult Medicaid
Department: Social Services
How long have you worked with the county?
4 years
What does your job involve? Please describe what you do.
I work on the PLA (Private Living Assistance) team as a review worker. My job involves carrying an Adult Medicaid caseload for recipients of Medicaid according to the Medicaid for Adult, Aged, Blind and Disabled Medicaid Policy. I review cases to determine continued eligibility for the client.
When an application is taken and completed, the case is then transferred to the review worker. The review worker evaluates a client's case every six months or a year. I send a request for information letter in the State system called NC Fast each month informing the client it is time to complete the review and provide to the requested information. If the client does not respond to the letter, I contact the client and offer assistance in getting the requested information.
There are different income limits and resource limits for the programs Medicaid offers. I evaluate resources such as cash, bank accounts, retirement accounts, stocks and bonds, cash value of life insurance policies, vehicles (other than one), real property (other than home site), investments, etc. The value of a person's home site, one car, home furnishings, clothing and jewelry are not counted in the resources.
The caseload averages 80 to 90 reviews each month. These reviews must be completed by the State deadline.
In addition to the reviews, I answer all phone calls and address reported changes in situations from a client according the Medicaid policy. I also refer clients to other programs and services within the agency and the community.
What do you like most about what you do, and why?
I enjoy my job by serving the citizens of Catawba County, helping those in need or providing information. I am very grateful to be working for the Department of Social Services.
Which of the county's core values (doing what's right, doing what matters, doing it together, doing it well) resonates most with you in the work you do, and why?
Regarding the County's core values, doing what's right resonates most because if you do what is right in your heart and have empathy for one another, you will show honor and respect and the other core values (doing what matters, doing it together and doing it well) will follow.